Click to Download the PDF
Welcome to the Georgina Historical Society's February 2020 newsletter. Our January General Meeting at the Kin Hall in Sutton was very well attended. The ever popular "Bring and Brag " ensured an interesting and entertaining evening. Old elementary school certificates and text books from the 1880's, an old barber certificate , artists pictures of historical significant buildings, a lumber rule, old books, original Georgina Island handmade moccasins, pictures of family, steam engines, boats , family collectibles and much more. Of course all the items were accompanied with interesting and entertaining stories. Coffee and lots of conversation and reminiscing wound up the evening.
A big thank you to all who volunteered your time to help at Sno Fest…a great day and a very successful event ! Our February General Meeting will be held on Tuesday, February 18 at the Kin Hall in Sutton. Paul Brady will be speaking on the ice industry on Lake Simcoe in Georgina from the 1870's to the 1920's. Paul will talk about how the ice industry contributed to the town and society in general. Looking forward to seeing you at the Kin Hall on Tuesday, February 18.
~ Tom Glover
The Steamer Orillia/Islay 1884-1919 – By Robert Holden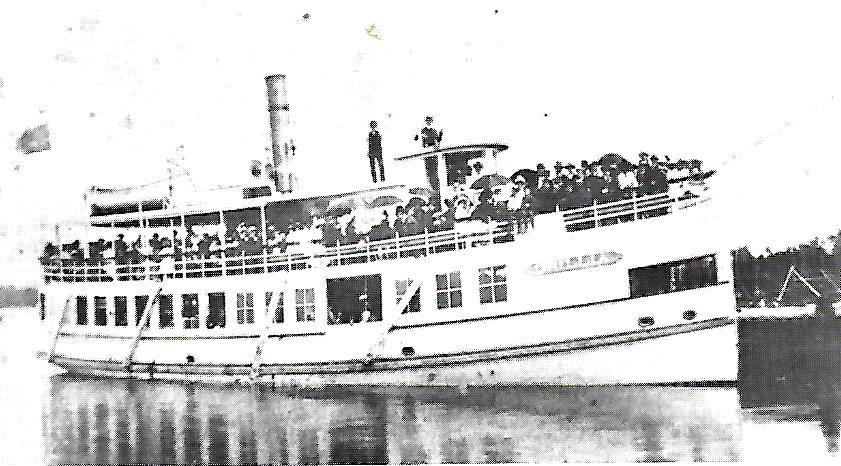 Steamer Orillia cruising on Lake Simcoe
Courtesy Mr. Harold Rowlands, Orillia
The steamer Orillia was built under the supervision of a Buffalo shipwright and became the first large steamer launched in Orillia. Her owner, Captain Charles McInnes put her to work in the excursion trade and in ferrying supplies and building materials for his new resort on Strawberry Island.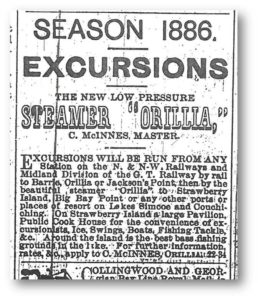 A double-decked screw-driven vessel, she was 85 feet at the keel and displaced 91.47 tons. She was the fastest steamboat on the lakes at that time, but her earnings were disappointing. By 1894, she developed chronic engine trouble and was dry-docked.
Left – notice of excursions on the Orillia posted in local newspapers.
Courtesy Bill Hester, Steamboats Orillia/Islay, Lake Simcoe Marine Heritage Society.
Taken completely apart, the Orillia was lengthened 35 feet, relaunched and renamed Islay in June of 1895. A splendid looking vessel, she was now 116 feet at the keel, displaced 175 tons, and licensed for 300 passengers. For the next 19 years she was the queen of Lake Simcoe. In 1914, McIinnes ran into financial trouble and his beloved island and vessel were put up for auction. Removed from service and beached near Couchiching Park, she languished in storage until 1919 when she caught fire and was completely consumed.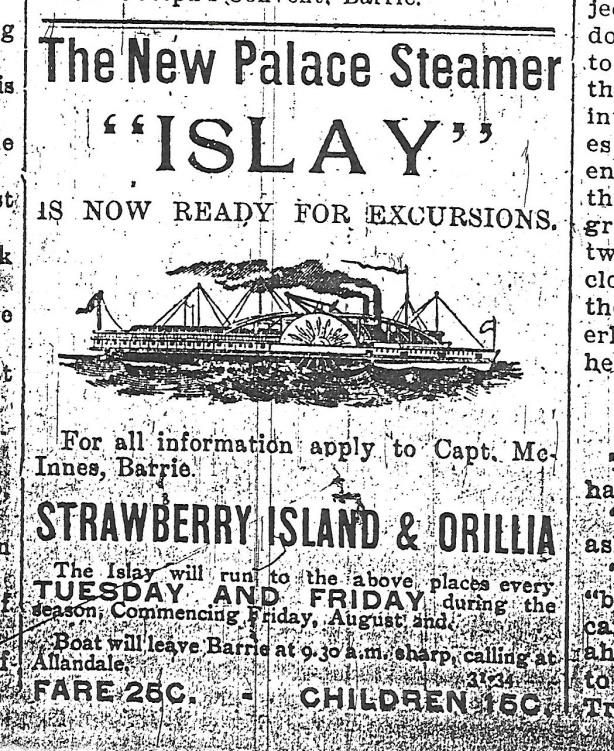 Left – June 12, 1895 Advertisement in the Barrie Examiner announcing the new steamer "Islay" (pronounced I-la) which replaced the Orillia after the latter received an extensive refit.
Courtesy Steamboat Orillia/Islay by Bill Hester GPL
Right – Was posted in the Orillia Times in 1898.
Courtesy Steamboat Orillia/Islay by Bill Hester GPL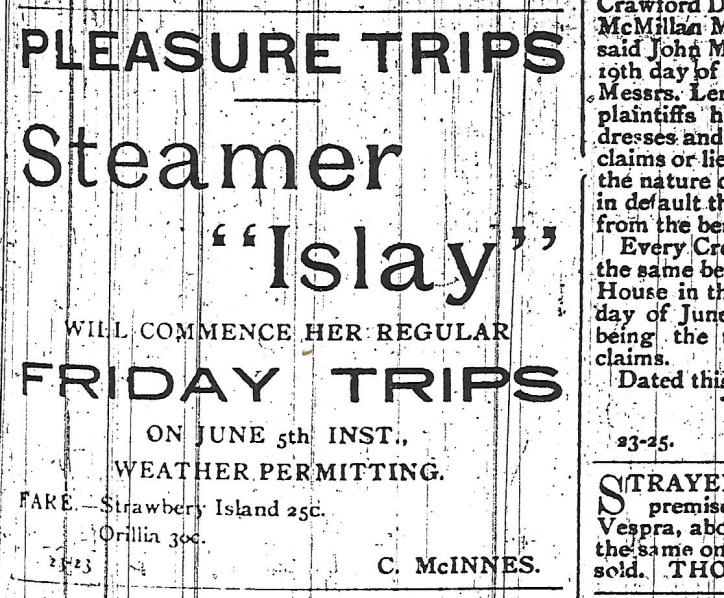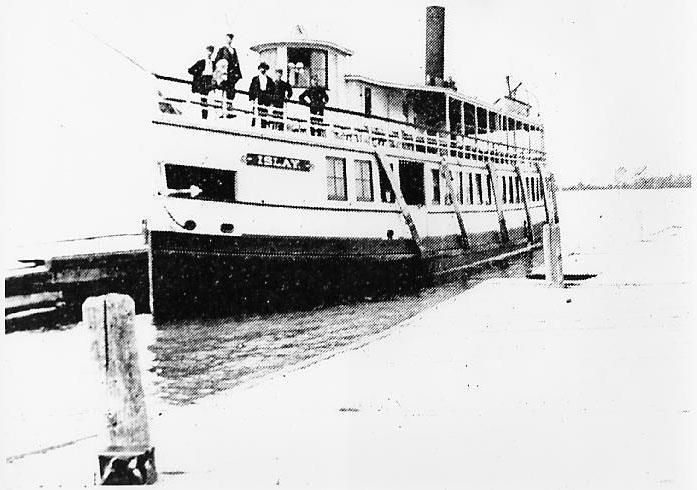 Photo of the Lake Simcoe steamer named "Islay" taken in 1900 while docked. Several crewmen or passengers are visible standing on the deck and posed for the photo. The tall man is Captain Frederick Mackay. It operated as part of the Lake Simcoe Navigation Company, and was the last steamer on the lake.
http://www.ourstoriesinnisfil.ca/islandora/object/ourstories%3A3544
The Steamer Islay passing through the Narrows 1895. The steamer "Islay" was owned by Captain Charles McInnes. The Steamer was originally called "The Orillia". It is seen here taking passengers through The Narrows into Lake Simcoe from Lake Couchiching. They are probably going for a picnic to Strawberry Island, which was also owned by Captain McInnes.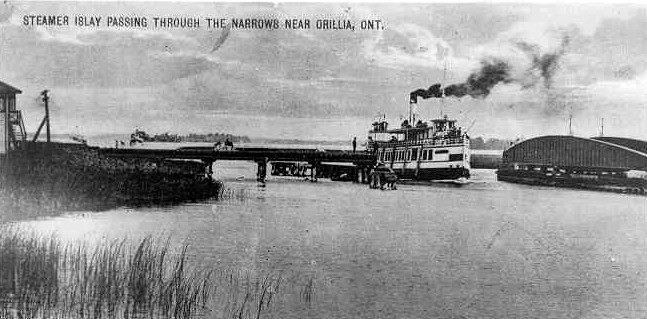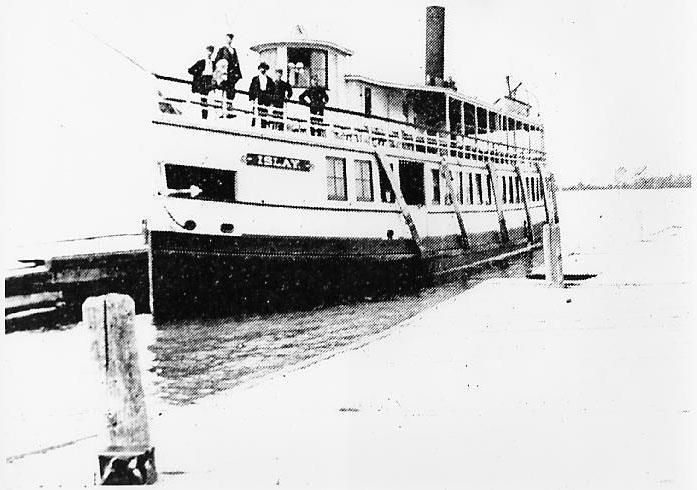 Photo above and left this page http://www.ourstoriesinnisfil.ca/islandora/object/ourstories%3A3544
Right – Islay on excursion at Jackson's Point – sometime between 1901 and 1910
https://www.facebook.com/VintageLakeSimcoe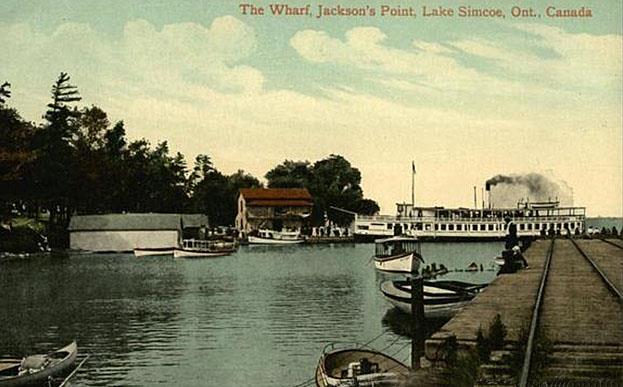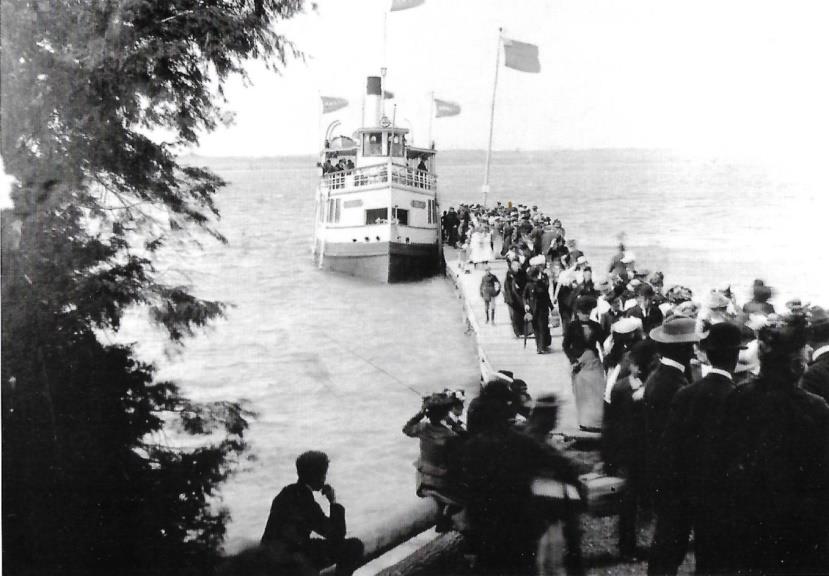 Left – Steamer Islay at De Grassi.
NAVIGATION. 1904
http://www.ourstoriesinnisfil.ca/islandora/object/ourstories%3A3551?solr_nav[id]=39b393ca8cbe787ca6ed&solr_nav[page]=0&solr_nav[offset]=15
Right – 1890 Advertisement for Orillia excursions posted in the Barrie Examiner, Newmarket Era, and Orillia Times.
Steamboat Orillia/Islay by Bill Hester, Lake Simcoe Marine Heritage Society GPL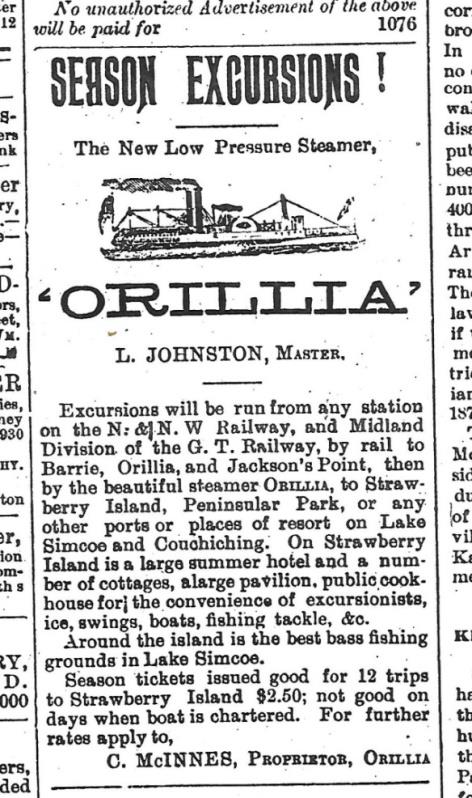 Couple Unearths Historic Carving in Jackson's Point Backyard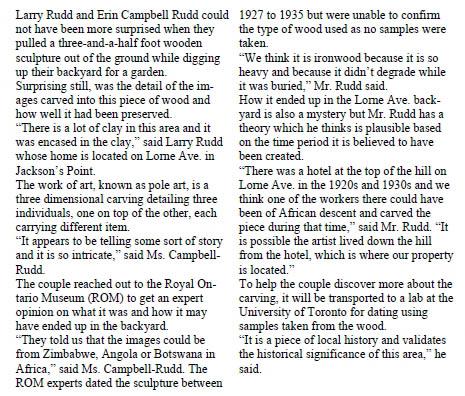 This two-and-a-half foot (0.7 metre) pole sculpture was found in the backyard of a Jackson's Point couple on Lorne Ave. Erin Campbell Rudd and Larry Rudd discovered it while digging out a section of their garden.
The piece was examined by experts at the Royal Ontario Museum and was estimated to be approximately 85 to 90 years old.
How it came to be buried in the Rudd's backyard is still a mystery but the owners believe it may have been carved here even though it is representative of artwork coming from regions in West Africa.
May 24, 2017 Georgina Post article regarding Larry Rudd's discovery. Courtesy of Karen Wolfe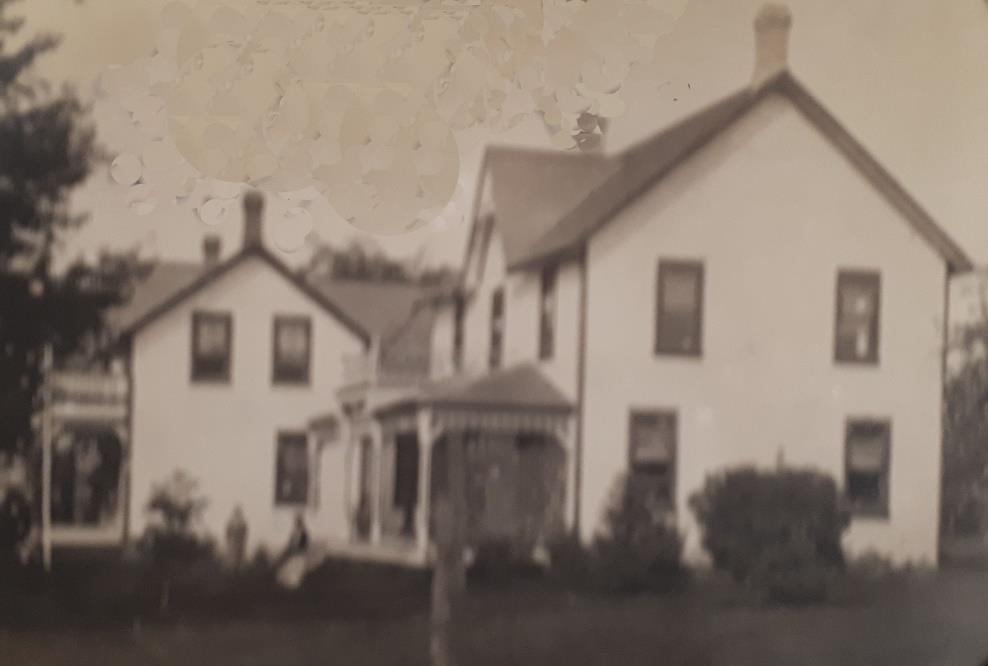 Phillip Wellman correctly identified the last mystery location as the church in Ravenshoe. See if you can correctly identify this month's location and what it is.
Tuesday, February 18

th
 – February General Meeting – Kin Hall, Sutton 7PM Meet & Greet 6:30PM. Paul Brady will speak on the Ice Industry on Lake Simcoe.
Saturday, February 22nd – Bradford West Gwillumbury Sat @ 2pm meeting at the Bradford. Library on Holland StTed Duncan President of Simcoe County
history Assoc. is the speaker.