Click to Download the PDF
Welcome to the Georgina Historical Society's May, 2020 newsletter.  While, April was a month like no other month in our memory, due to all the shutdowns and cancellations it will surely be remembered as the longest month of the year as we struggled with staying home and restricted activities even the weather was uncooperative.
Below is a picture taken on a drive along the lakeshore on April 22.   Nothing like an evening at the lake! And on May 9th snow!  Unfortunately all the Georgina Historical Society activities for the month of May are once again cancelled and looking ahead there will be no Canada Day celebrations at the Pioneer Village.  We are keeping our fingers crossed that we will be able to hold Harvest Day this September.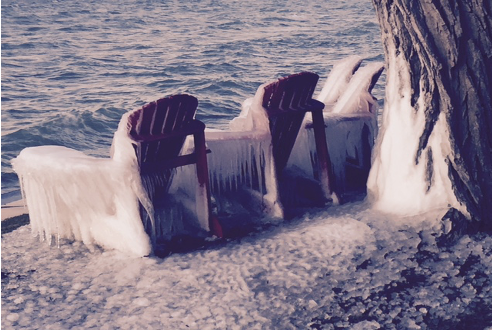 On May 8th, I trust you took a moment to celebrate the end of the war in Europe seventy -five years ago and honour the brave men and women who fought and those who lost their lives in order to preserve our freedom and way of life.  Unfortunately celebrations were somewhat muted compared to the original plans.  As a result of the continued Covid -19 lockdown, most countries marked the event with television and radio programs and military fly-bys.
The Georgina Historical Society would like to extend best wishes to the Town of Innisfil (formerly Township of Innisfil) as they celebrate their bicentennial in 2020.  The Innisfil Historical Society has compiled a new book, the Historical Review of Innisfil to commemorate this special milestone. For more information about their celebrations you can e-mail innisfil200@innisfil.ca.
The pandemic seems to be leveling out a bit, let's hope for continued improvement and a return to a more normal way of life.  Looking forward to seeing everyone again soon;  look out for your family, friends and neighbours during this time
Take care, stay safe!
~ Tom Glover
Challenges – By Tom Glover
So, you are struggling with the Covid – 19 restrictions on your life.  Bored with staying at home?  Miss seeing your children?  Miss seeing your grandchildren?  Miss seeing your friends?  Miss your activities and social interaction?  Tired of pessimistic news and government restrictions on your life?  Time to quit feeling sorry for yourself;  we have been a fortunate generation!  Our parents and grandparents lived through a lot of difficult times.
WW1, lasting from 1914 to 1918, was the beginning of a series of challenges.  The only way to keep in touch with loved ones and friends on the frontlines was by letter, sometimes waiting months for a reply.  They dealt with material shortages and rationing and suffered the loss of family members and friends.   Four long years the war lasted.  Through this they remained optimistic and retained their faith, learning perseverance, ingenuity and resilience.
Before the war ended the Influenza Epidemic of 1918-1920 known as the Spanish Flu struck, killing over 50,000 Canadians.  Throughout this struggle they cared for family, friends, and neighbours without thought to their own well-being.  Care for your fellow mankind and treat others as you would like to be treated – lessons learned and passed down to their children.
Less than a decade later they had to deal with the Great Depression and a struggle to economically survive throughout the thirties.  They endured a shortage of money, food, jobs and economic opportunities for almost a decade.
The lessons learned; the importance of a hard earned dollar, careful monitoring of finances and the importance of family and friends.
Then came WW2, 1939 – 1945; loss of sons, daughters, husbands, wives, friends and neighbours.  Separations of up to four years and even more as spouses served overseas.  Rationing, material shortages and more economic sacrifices had to be endured.  Again, the importance of family and friends, and the need to work together for world peace – important lessons learned and remembered.
It is hard to imagine the struggles and challenges endured by the generations before us.  The lessons they learned from their lives, obstacles were passed down to us.  Let us remember them. All we can do is follow the guidelines set down by the various levels of government – be patient, stay safe, and continue to look out for your family, friends and neighbours.  And Remember, we Are A Fortunate Generation !
STOREKEEPING IN THE DEPRESSION – By Tom Glover
In 1929 my grandparents, Elmer and Mary Stickwood and their six young children arrived in Ravenshoe to take over the General Store and Post Office.  Just in time for the Great Depression!  Back then a general store truly lived up to its name…flour, salt, oatmeal, meat, potatoes, vegetables, fruit, candy, dry goods, hardware and kerosene – if you needed it, the store had it.  A large wooden ice box in the basement helped keep things fresh.
Tucked in the back corner was the small post office where you could pick up your mail, buy stamps and post your letters and parcels.  A large pot-bellied stove heated the store.  A door separated the store from the family's adjoining living quarters.  Nothing like being close to your work!
Outside in the yard stood a small barn that housed the delivery horse Missy; as a 15 year old boy my Uncle Howard's job was to deliver orders that had been phoned in. By horse and buggy or sleigh, he travelled a 3-4 mile radius of the store delivering people's groceries.
Some of the customers paid when they bought their goods, but it was customary for most to charge their purchases until they had money to pay.  As the depression progressed it became harder and harder to collect the accounts; just as it was harder to refuse goods to people in need.  There was some bartering of eggs and other farm produce for merchandise.  My grandmother learned to candle eggs by placing a candle in a tin can and holding the egg over the light.  One time a young bride brought eggs in from a nesting hen. She had been pleased to find such a large selection in one spot.  When my grandmother candled the eggs she told her customer, "You had better get these eggs back to the hen right away; they are ready to hatch."
Not all the customers were loyal to their local storekeeper.  A bone of contention with my grandfather was the Saturday kerosene sales.  On Saturday, customers would leave their empty cans on the front porch of the store.  They would then head to Newmarket to shop, expecting to pick up a container full of kerosene when they returned home later in the evening.  After spending their cash in town, this purchase would be charged on their accounts.  Not good for customer storekeeper relations!
As the depression worsened money became scarcer and scarcer.  Just as my grandparents had a hard time collecting their accounts, it became increasingly difficult to pay their suppliers.   No matter what, they made sure that if they could not pay the account in full, each supplier was paid as large a portion as they could manage.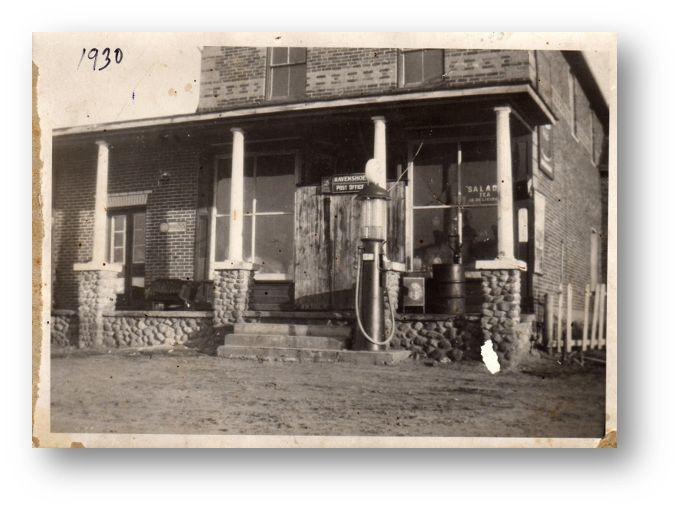 Christmas was exceptionally hard on my grandparents and my mother and her siblings.  Although they tried their best, my grandparents were only able to give a rather skimpy stocking to their children.  By 1935 my grandparents could no longer continue to struggle with the store.  My grandfather had inherited his father's steam engine, threshing machine, and portable saw mill. He then became a thresher man and sawyer, and they rented a house in Queensville.
Although they could not collect accounts they were owed, my grandparents continued to send what money they could to their suppliers to pay their overdue accounts.  It must have been a great relief to them when some three years later they paid their last supplier.
A life lesson well learned and remembered by their children!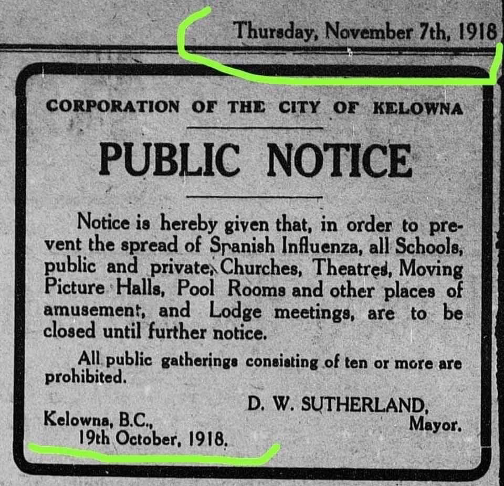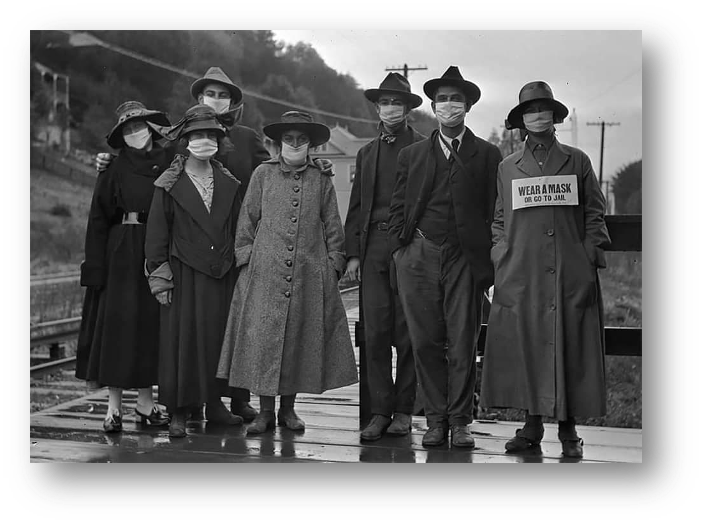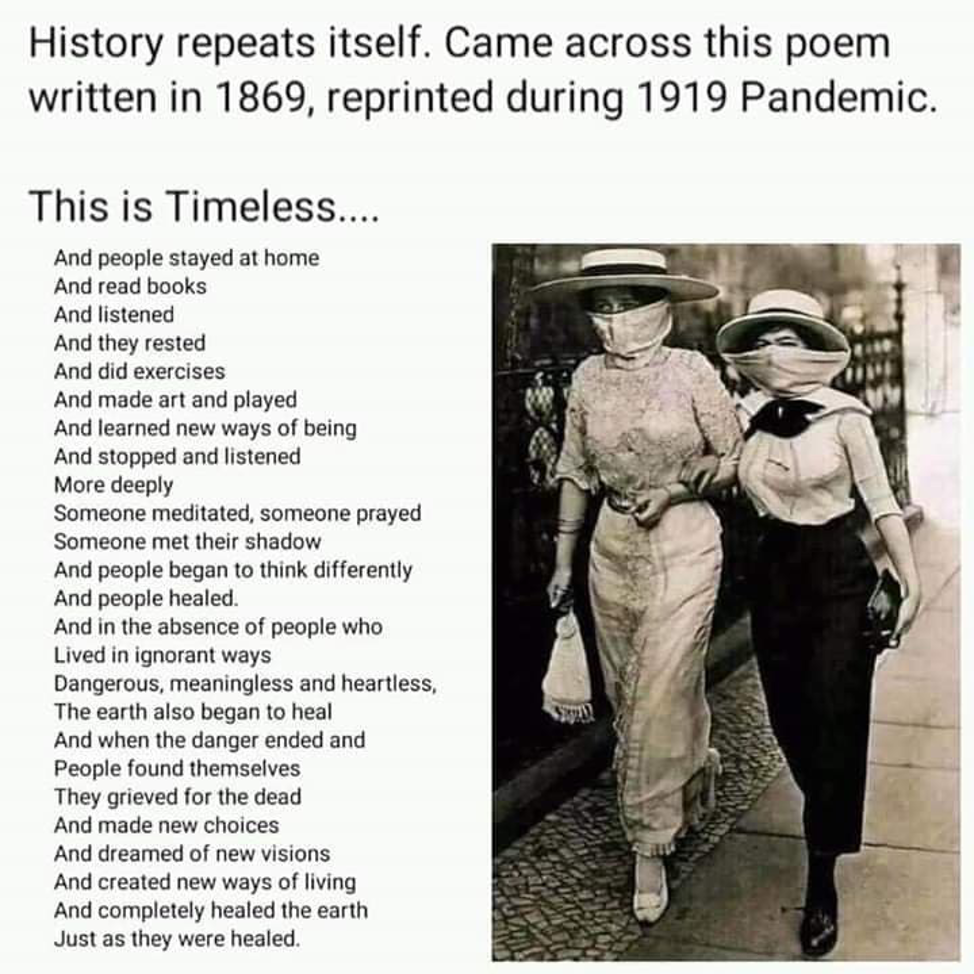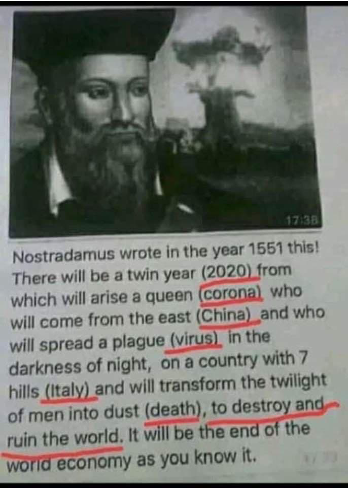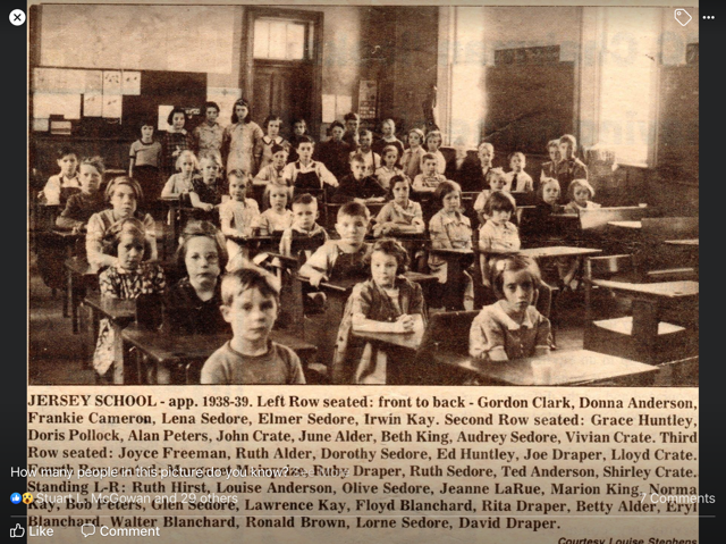 Benedict Arnold – By Terry Carter
A large chunk of today's Town of Georgina was given to a man whose name lives in infamy in United States history. It was his reward for his treachery.
Benedict Arnold, a close friend of George Washington's and a much-acclaimed general in the American Revolutionary War army, became disillusioned with the cause of the rebelling 13 colonies and switched sides in mid-war.
Part of his reward was to be made a British army general, and another part was land grants on the frontier. No one knows today how or why he wound up owning thousands of acres of undeveloped forest in the old Township of North Gwillimbury. Arnold was granted 16,400 acres of land in North Gwillimbury in 1799 – 20 years after his treachery.
Arnold, an ambitious merchant and sea captain in colonial America, proved a daring and aggressive officer in the rebel army and soon rose to senior commands. He captured Fort Ticonderoga with a surprise attack on the British stronghold – one of the first rebel victories of the war. He is also credited as the victor of the Battle of Saratoga, where a whole British army was defeated and captured.
But the character of this vain and temperamental man was well known to his former friends on the loyalist side, and in May, 1779 Col. Beverley Robinson had a letter smuggled to him. Robinson, a member of a wealthy Virginia family and at the time head of British intelligence in the New York department, knew Arnold was smarting over not having received a promotion he thought was his due. His letter appealed to this vanity: "Shall America continue to be but a theatre of desolation?" he asked. "The exhausted colonies cannot much longer sustain the unequal contest … we must seek a reunion without shedding any more blood. One man alone can surmount the difficulties of reconciliation. Brave General Arnold: render your country this important service! Put an end to all this misery. The American general who would reconcile His Majesty to his people, and them to him, will not only deserve the highest awards and honours in life; he will also earn the immortal gratitude of a united people after his death!"
Arnold bit. He opened negotiations with the British, wangled the command of the fortress at West Point from Washington, a post so important that both sides acknowledged its fall could decide the war.
Arnold agreed to leave the post open and undefended to a British raid, but the fortunes of war intervened. A courier bearing Arnold's letters and maps was captured and the game was over. Arnold fled to a British warship anchored in the Hudson River.
His brief stint as a British general was unsuccessful, for he was universally despised as a traitor. He lived out his life in exile, hated by the Americans and unloved by the British he was forced to live among. He died in poverty in England, never having visited let alone lived on his Canadian lands. Upon his death the Crown took back 5,000 of his personal acres. His widow, Margaret, received 3,000 acres, and seven of his children 1,200 each. The Arnold family eventually sold all its holdings in the area.
Editor's note:  Some early maps of Georgina show the location of the lands granted to Benedict Arnold and are identified as the Arnold Estates.
Bingo!  Enid Abrams once again solved our mystery!  Our last mystery picture was unknown to us and Enid was able to help us; it was the Udora General Store.  Built-in 1860 and converted into a general store in 1895, the Udora General Store is one of the oldest operating general stores in Canada and still serves that community very well today. 
Can you identify our new mystery picture location below?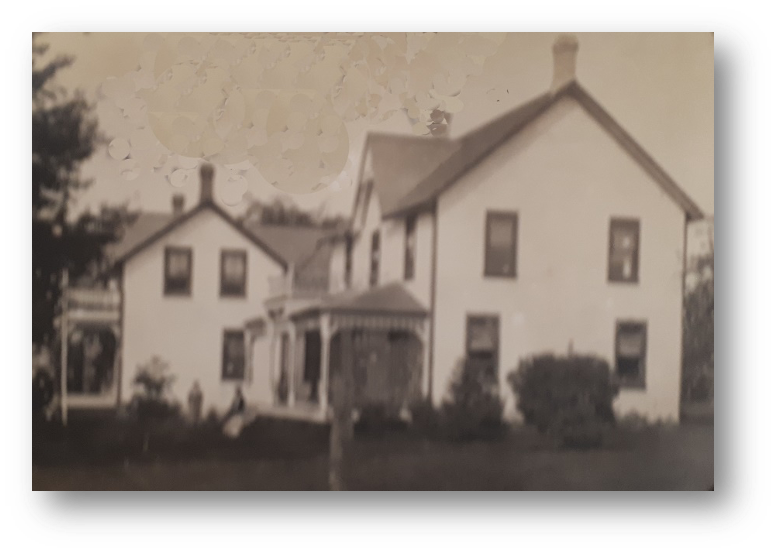 The Pioneer Village has been approved for 2 positions from Young Canada Works, but Melissa Matt is still waiting to hear back from Canada Summer Jobs.   Melissa advises she will be reviewing resumes to be ready to hire when/if the time comes. We don't know if camps are going to be cancelled outright or only run later in the summer. A new Summer Grounds Attendant was hired but his start date was after the isolation began, so he has never actually been "hired".   Apart from a week and a half on holiday and some time working from home, Melissa has been on site and working on the collection where time permits.  The plan is to go forward as 'business as usual' for Harvest Day and Old Fashioned Christmas, but Canada Day will likely be an online/outreach event.
Warmer weather needs to begin before cleaning and opening the buildings may start allowing them to air and dry out.  No news yet on the schoolhouse as no work had commenced as yet and will not likely occur until all of this is over.  A roofer came to take measurements on the Mann house and Noble hose to make a bid on reroofing.  Melissa advises that she is being redeployed to help in the Waterworks Department and started there on Monday April 27th. She does not know how long she will remain there, or if she can split her time between the Village and that department. If you have any concerns or needs, please don't hesitate to contact her, as she will continue to monitor her email.
All community centres and facilities in the Town of Georgina will continue to be closed through May.  Unfortunately, we will have to continue cancellations of our Board meetings as well as all future.  Let us hope we can resume our regular schedule of by the end of summer.  In the meantime we can remain in touch by email and phone.  Please share your thoughts, ideas and concerns in order that we may proceed with our mandate and the goals of the Georgina Historical Society.
All further GHS events are suspended until further notice.
We will continue to publish your newsletter.  Further information regarding the resumption of meetings and activities will be advised in subsequent issues.