Click to Download the PDF
Welcome to the September, 2021 issue of the Georgina Historical Society Newsletter. I would like to thank all our members who were able to attend our much delayed 2020 Annual Meeting on August 03 in the Pioneer Village. It certainly was good to see so many of you again and share some time together. After our "bring your own dinner", we held a brief meeting and welcomed our new director Sue Horton to the board. The meeting concluded with a tour of the Village, led by Sarah Harrison, to view the new signs, all the maintenance work done in the past year and tour the ongoing rehabilitation of the caboose…thank you Sarah for leading the tour.
More thanks goes out to our caboose crew, Paul Brady, Wayne Phillips and Cliff Williams. A big welcome back goes to Melissa Matt who has returned from her stint at the Covid vaccination clinic to her role as curator at the Village. Rich, our valued maintenance man has completed repairing and painting the radial stations and has started some much need repairs to the bandstand. Construction of the replica Cedarbrae School is underway. The concrete work is completed and lumber has arrived awaiting the next phase. As always a big thank you to our town staff, Jodi, Melissa, Shaun & Rich for planning, coordinating and carrying out all the work in the Village.
Once again, thank you to Paul and Kim Brady for letting the GHS take part in their garage sale. A total of $1050 was raised for the GHS from sales and generous donations from Paul & Kim Brady and Wayne Phillips. Thanks to all of you who helped the "Friends of the Parish Hall" with their yard sale. Your hard work helped them raise almost $4500 towards the repairs needed to renew the hall…A very worthy project! As covid precautions continue the GHS is continuing to limit our indoor activities.
Hopefully, by late fall we will be able to resume our normal events.
We have tentatively scheduled our 2021 Annual Meeting for Thursday, November 19. Details will follow when we are able to confirm a venue and Covid protocol for that time. At our 2021 Annual Meeting vacancies for vice president, treasurer and director will need to be filled. If you are interested in joining the GHS Board please let us know.
Looking forward to seeing everyone soon…take care…stay safe.
Tom Glover
GHS President
Beechcroft in Roches Point

by

Paul Brady
A recent real estate listing has given us a rare glimpse behind the hedges of one of Georgina's most exclusive pieces of real estate. Beechcroft, registered with the Government of Canada as a National Historic Site, is now on the market. With a list price of $18,000,000 and with the municipal taxes approaching $1,000 a week, the purchaser is going to need a pretty fat purse.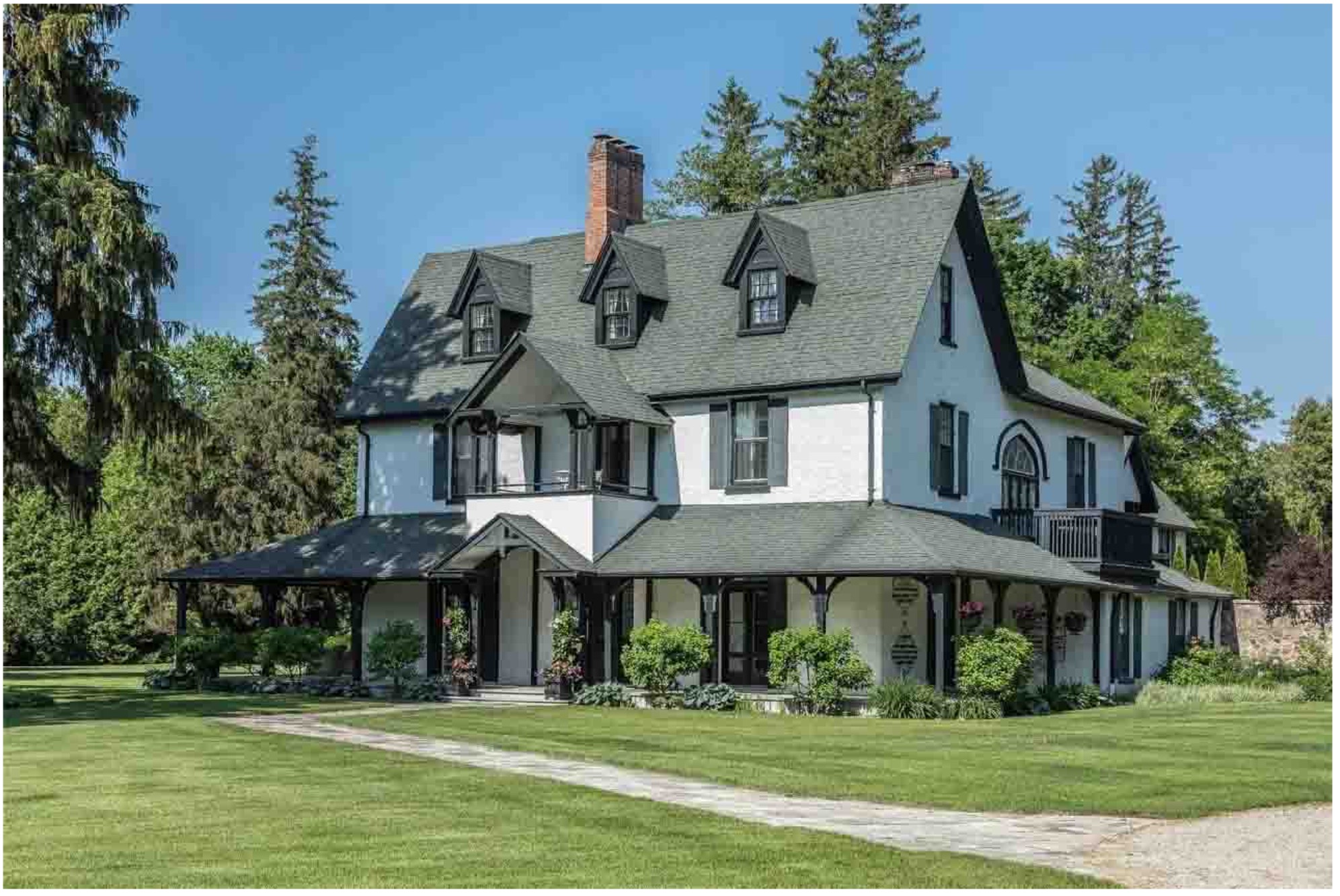 One of the earliest dwellings along "Millionaire's Row" in Roches Point, this iconic property includes over six acres of land and 542 feet of prime Lake Simcoe waterfront. With stunning western views, glorious sunsets and over 9,000 square feet of living space, this is indeed a once in a lifetime opportunity to enjoy the good life.  It was originally built about 1861 for the man who created Roches Point's wonderful Christ Church, Reverend Walter Stennett. He was a retired principal of Upper Canada College and had come to the area to convalesce after suffering a nervous breakdown.
Beechcroft was purchased for $5,000 soon after by a flamboyant American lumber baron by the name of Anson Green Phelps Dodge. This was 1870, and the property then included 115 acres of land. A.G.P. Dodge had come up from the United States in pursuit of the thousands of acres of virgin forest still standing in the Muskoka area.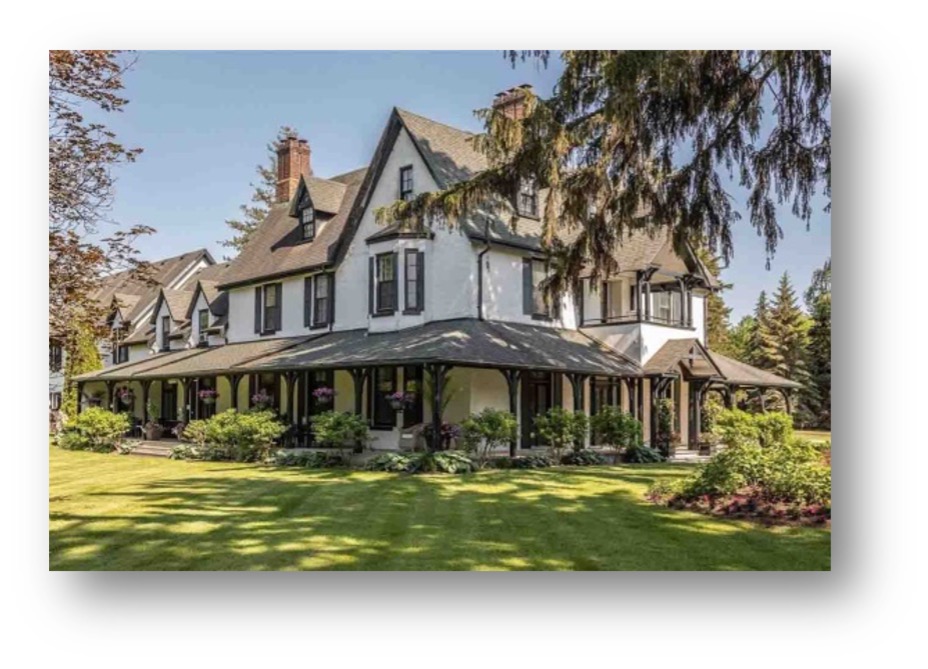 I do not know why he settled in Roches Point, as the rail link for the lumber markets to the south was located on the other side of Cook Bay at Belle Ewart, but he quickly put his own personal spin on the property. Adding extensions, gables and a wrap-around verandah, his crowning touch was hiring Frederick Law Olmstead of New York to design his gardens. It is said that Olmstead was the father of American garden architecture and, with his partner Calvert Vaux, designed New York's Central Park along with many other urban landscapes. Beechcroft's gardens still exist and are one of the selling features. A.G.P. Dodge went on to become president of the Lake Simcoe Junction Railway while it was still in the planning stages, so maybe that was why he had settled on this side of Cook's Bay, to establish his own rail link for his lumber dynasty. He also ran for, and won, the federal seat for York North. However, it was not to be, as his empire started to crumble due to several scandals involving forged endorsement letters and questionable business deals.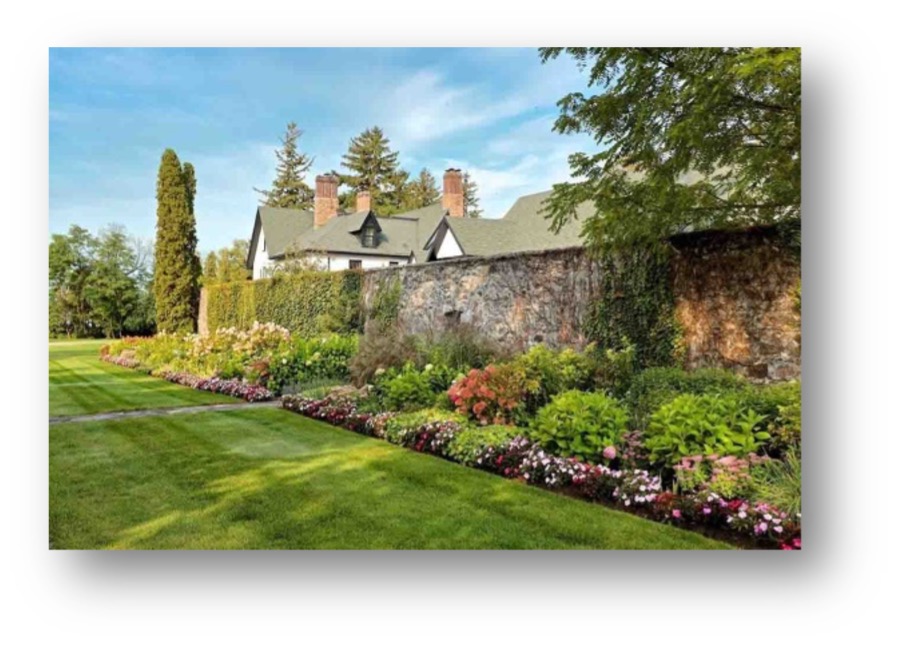 Lavish spending and fat expense accounts by himself and his managers, along with debts incurred acquiring property and equipment, added to his woes, but a recession sealed the deal and he lost Beechcroft to bankruptcy by 1873. He went back to the States to manage his father's businesses and died in 1918. Meanwhile, Beechcroft was sold to Toronto based businessman Walter Gillespie and by 1883 had been used as a summer residence, school for clergy, hotel and rooming house.
The next owner, Sir Edmund Osler, was another fascinating gentleman. Although not university educated, his accomplishments seemed boundless. Financier, entrepreneur, politician and philanthropist, Sir Edmund Osler was knighted in 1912. Early in his career he had partnered with Henry Pellatt, builder of Casa Loma, in a firm specializing in investment and stockbroking. This led to railroad expansions, land investing and other financial and business ventures. By 1896 he was elected to the House of Commons as the MP for West Toronto and he served in that role until 1917. During his lifetime he became a trustee for the Hospital for Sick Children, created Craiglieth Gardens in Toronto and was a founding member of the Royal Ontario Museum. He died in 1924, leaving an estate valued at almost $4,000,000. His stewardship of Beechcroft began in 1885. He added it to his already substantial real estate holdings, and it's then 80 acres of land were broken up and divided amongst his children. Beechcroft and its attendant allocation of land went to his son. The son's family retained the property for over a hundred years, respecting its heritage by maintaining it in the form in which they received it. This included replacing worn wallpaper with similar patterns and planting white flowers where white flowers had been.
Beechcroft has changed hands since then and was featured in an article in the Globe and Mail newspaper dated August 3, 2007. At that time, it was owned by an interior decorator who was not afraid to change things and had brought the elegant old place up to date, circa 2007. The current listing shows and describes a tasteful presentation and the magnificent property appears to be what one would expect it to be. The acreage of the property has been reduced over the years and is presently listed at 6.37 acres with 524 feet of waterfront. It boasts 9 bedrooms, 8 bathrooms, 2 kitchens, sunroom, library, family room, dining room, living room and a great room. There is a boat house and permanent dock with a Tiki bar, and to keep yourself in shape there is a putting green and a basketball and tennis court. There are also 20 parking spaces and an attached garage.
I wonder if Reverend Stennett would have thought, back in 1859 as he planned the basis of this magnificent building that it would still exist in 2021. We can only hope that whoever purchases Beechcroft will respect the rich history of this property. Although not open to the public, it has been part of the lore of Georgina for over a century and a half, and I am optimistic that it will still exist to be admired as a showcase of history, taste and elegance a hundred and sixty years from now.
The Sutton Grist Mill
By Tom Glover
The photo featured on the Georgina 20121 calendar for the month of September is the Sutton Grist Mill.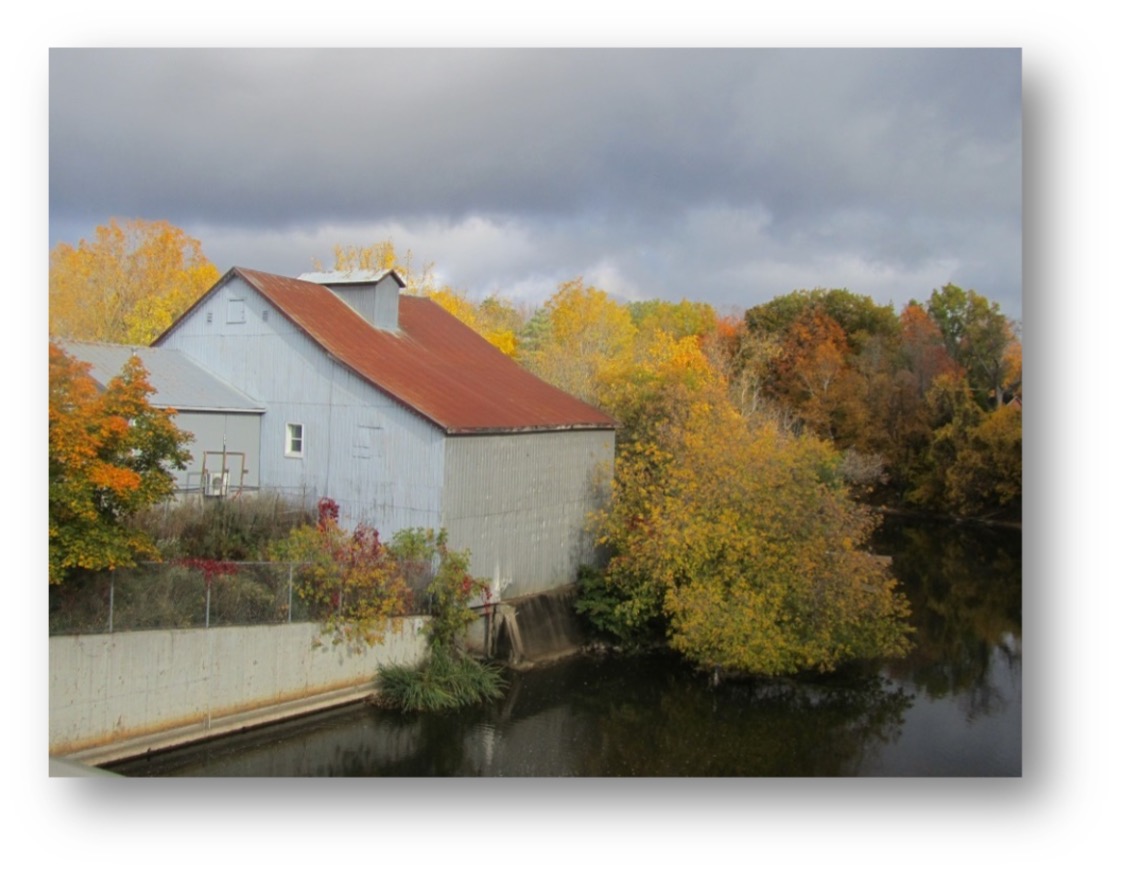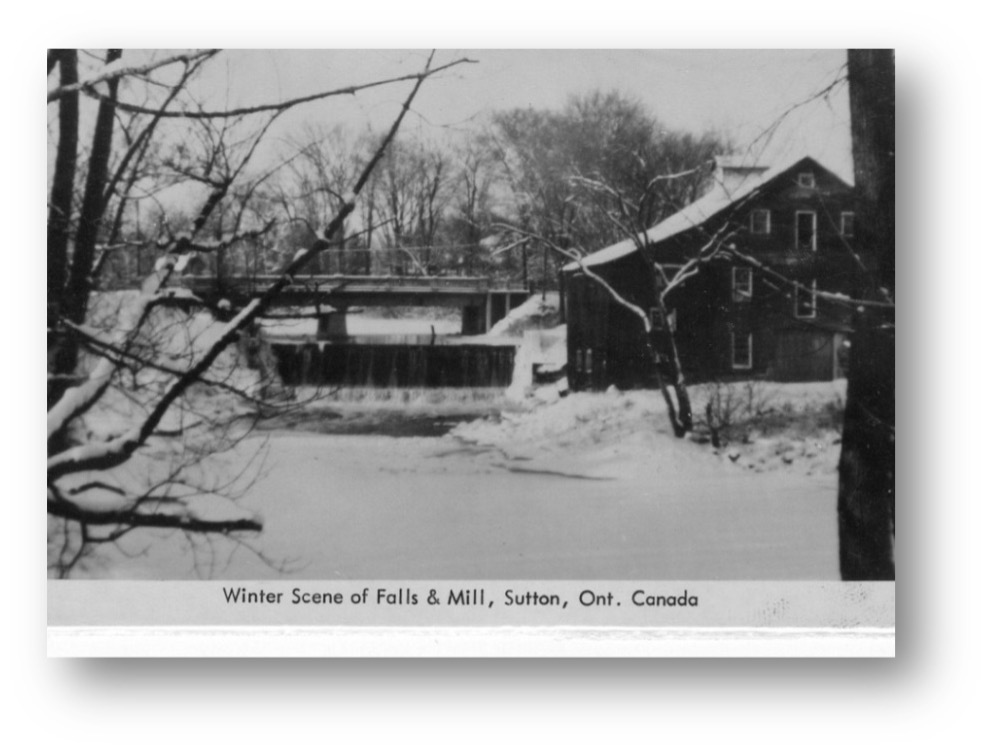 The Sutton Mill was originally built by James Bourchier in the 1820s. Water was used to provide the power to grind the grain. The mill began to provide electric power around 1890. It generated enough electricity to allow one bulb to light most Sutton businesses. Around the late "teens" the demand for electric power was so great that that a contract was signed with Ontario Hydro to purchase power from them and electrical generation at the mill ceased.
The mill continued to operate by water power until the flood waters from hurricane Hazel damaged the mill and wiped out the wooden flume. A diesel engine provided the power to run the mill until grinding operations ceased in the late fifties. Although feed, seed, fertilizer, hardware, gardening supplies continued to be sold at the mill: grinding and feed production was provided by the Co-op at Newmarket.
Today all that is available to be purchased at the old mill is ice cream treats in the summer time.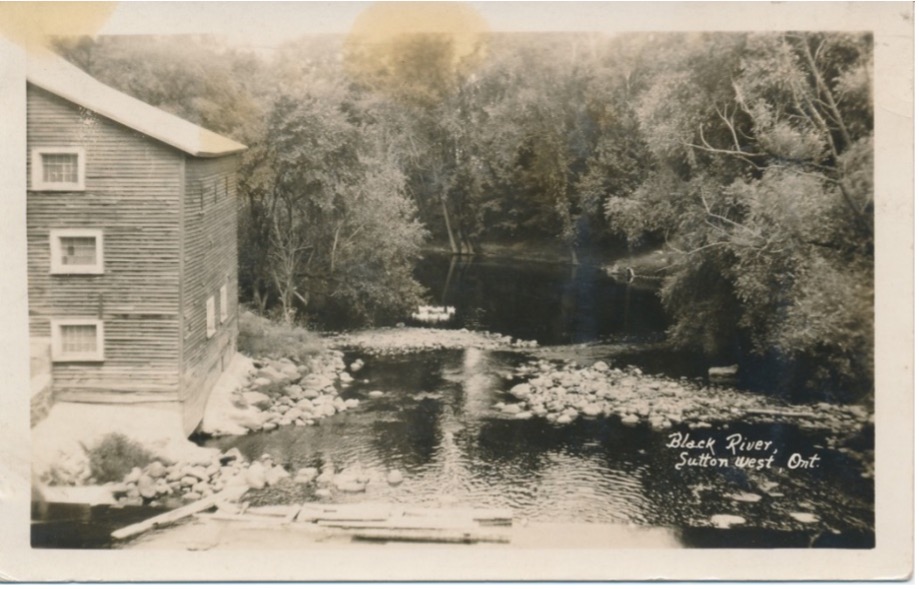 No-one has guessed our last mystery location so we will reserve it for another time. Where in Georgina was the image below located?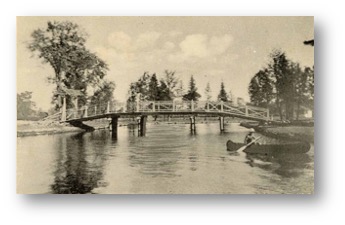 Some Highway History…King's Highway 48
Our highways have a history too! The only provincially designated highway passing through Georgina (Highway 404 stops just short of us in East Gwillimbury), the King's Highway 48 is a major arterial highway which links Markham to Highway 12 near Beaverton. Until the late 1990s, the highway was considerably longer, extending from Toronto to Highway 35 at Coboconk. Large sections of Highway 48 were decommissioned and transferred to local municipalities during the hastily-executed highway downloading of 1997-1998 by the Harris Government. Nearly 50% of Highway 48 has been lost to either downloading or route renumbering since the late 1990s, so the highway is only 66 km (41 miles) in length today, much of it passing through the central and eastern parts of the Town of Georgina.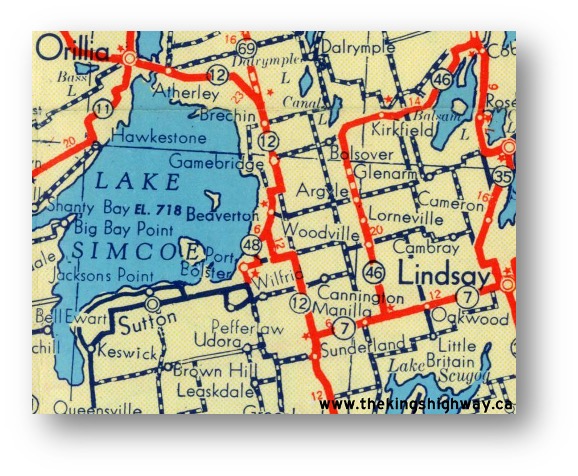 Highway 48 was first designated as a provincial highway in the late 1930s. Initially, It was just a short connector highway which linked Port Bolster to Highway 12 near Beaverton. A Preliminary Route Plan was prepared dated June 26, 1935, indicating the intention of the Department of Highways of Ontario (DHO) to assume ownership of the Port Bolster Road as a King's Highway (see 1953 map to left). This tiny highway was only 10 km (6 miles) in length when it was first assumed as King's Highway 48 by the DHO on March 24, 1937. The original 1937 route of Highway 48 began at the Highway 12 Junction just south of Beaverton, as it existed in 1937.
This junction was located at the present-day intersection of Side Road 17 and Durham Road 23. The original 1937 route of Highway 48 ended at the intersection of Lakeridge Road and the present-day route of Highway 48 south of Port Bolster. This route of Highway 48 was originally gravel-surfaced for its entire length when it was first assumed in 1937. The highway was paved in its entirety from the Highway 12 Junction to Port Bolster in 1946.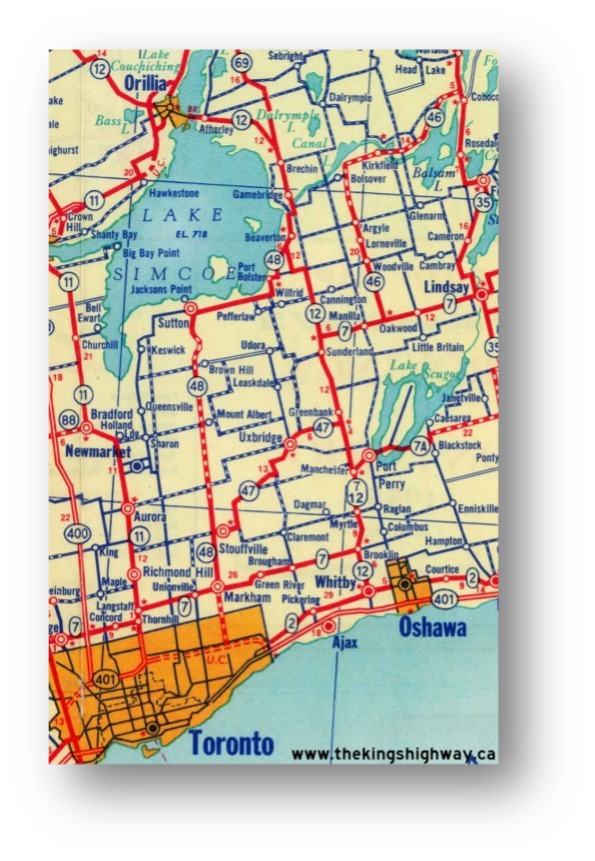 During the 1950s and 1960s, Highway 48 was extended considerably and began to take on a more important role in Ontario's provincial highway network. The highway was extended south from Port Bolster to Toronto along the Markham Road during the 1950s. A Preliminary Route Plan was prepared in October 1953, showing the proposed extension of Highway 48 from Port Bolster to Toronto. The Markham Road was officially assumed and designated as Highway 48 on February 10, 1954. The extension added over 70 km to the length of Highway 48 (see 1955 map left). The route of Highway 48 ended at the proposed interchange site of the Toronto Bypass (Highway 401) in Scarborough. The majority of the Highway 48 extension was gravel-surfaced at the time of the highway's assumption in 1954. A 10 mile section of the highway from Markham to the Aurora Road at Ballantrae was paved, along with the section from Baldwin to Port Bolster. A bituminous prime surface was applied to the gravel section on Highway 48 between Highway 401 and Markham in 1955. The balance of the highway was paved from Ballantrae to Baldwin in 1956 and 1957.
Highway 48 was extended easterly from Highway 12 to the Highway 46 Junction at Bolsover during the early 1960s. A Preliminary Route Plan was prepared in July 1961, showing the proposed extension of Highway 48 along the Portage or Bolsover Road between the Highway 12 Junction at Gamebridge and the Highway 46 Junction at Bolsover. Designated as King's Highway 48 on July 20, 1961, this new section of the highway was connected to the existing southern section from Toronto to Beaverton. The section of Highway 48 between Beaverton and Gamebridge was designated concurrently with Highway 12. This routing with Highway 12 also meant that a short section of Highway 48 from Beaverton to Gamebridge was considered to be a part of the Trans-Canada Highway. Following the extension of Highway 48 to Bolsover in 1961, the route of Highway 48 was 102 km (63 miles) in length. In the mid-1960s, a new bypass was constructed around the south side of Beaverton (see map of 1967 bottom right last page). The new route for Highway 48 bypassed the awkward old 1930s-era route of Highway 48 through Port Bolster and Beaverton.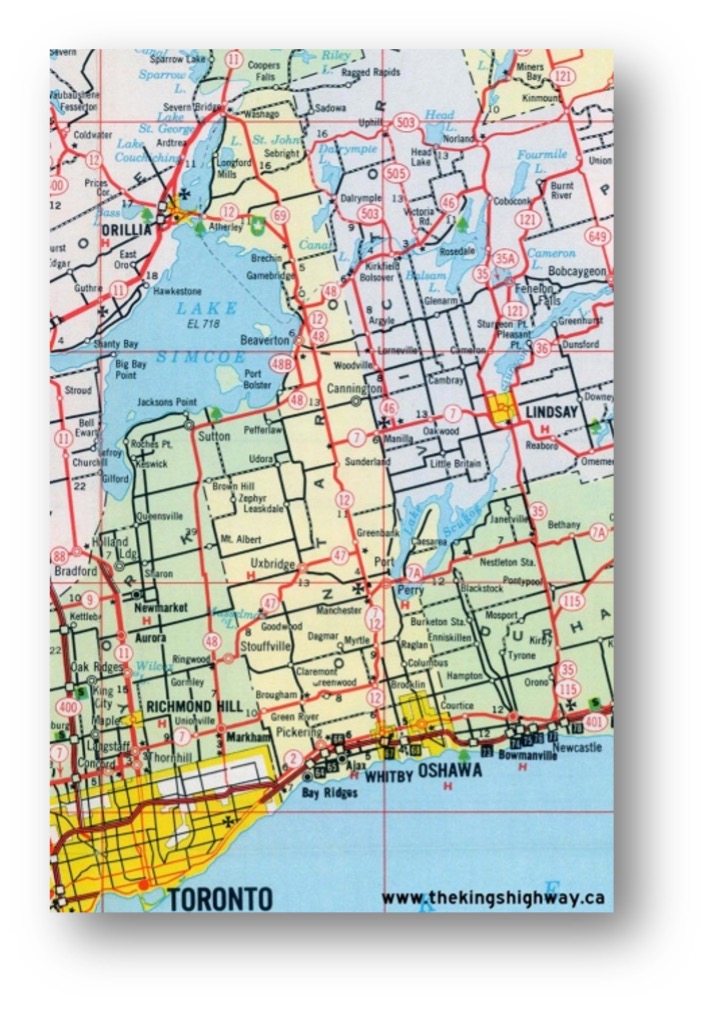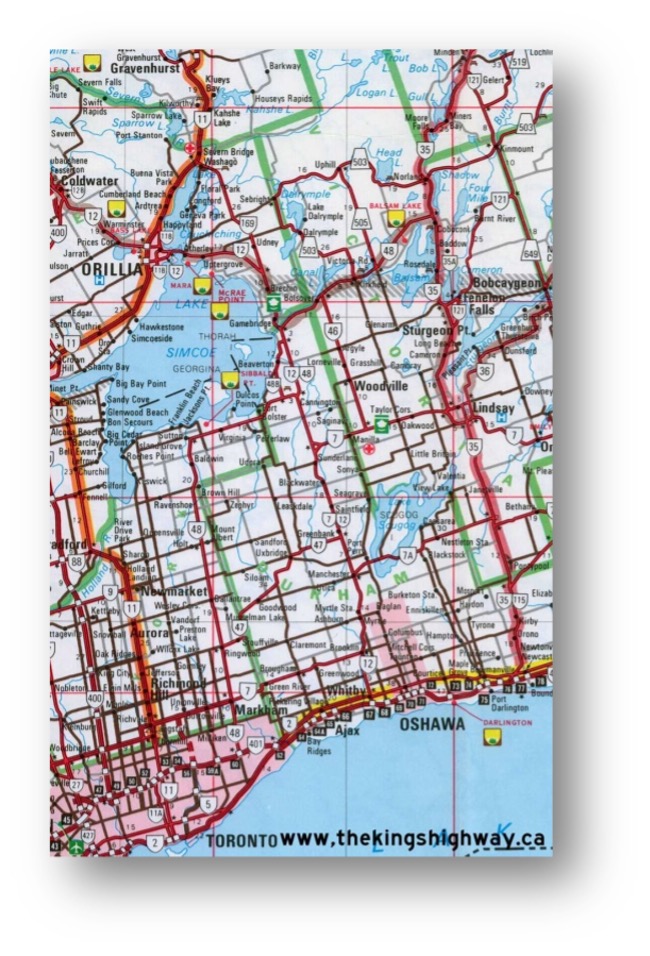 The Beaverton Bypass was completed and opened to traffic on November 4, 1966. A portion of the old route of Highway 48 through Beaverton was incorporated into the Beaverton Business Loop (Highway 48B) in 1966. However, some portions of the old route of Highway 48 through Port Bolster were deemed to serve only a local purpose and was no longer needed in the provincial highway network. The Port Bolster portion of Old Highway 48 was transferred to municipal authorities, effective April 1, 1968. The old route of Highway 48 through Port Bolster is now known as Durham Road 23. During the 1970s, the junction of Highway 46 and Highway 48 at Bolsover was reconstructed. As a result of the reconstruction, Highway 48 became the through route at the highway junction. In order to improve route continuity, the section of Highway 46 from Bolsover to the Highway 35 Junction at Coboconk was renumbered as Highway 48 in 1975 (see map of 1977 left). The 1975 highway renumbering added another 26 km to the length of Highway 48, and brought the total length of Highway 48 up to approximately 129 km (80 miles).
Originally, the entire route of Highway 48 from the Highway 12 Junction south of Beaverton to the Highway 401 Interchange in Toronto was under the jurisdiction of the Department of Highways Ontario (DHO). However, as the southern portions of the highway became more urbanized, the DHO began to transfer ownership of the highway over to the municipal jurisdictions through which the highway passed. The southernmost section of the highway, from the Highway 401 Interchange to the Metropolitan Toronto City Limits at Steeles Avenue, was transferred from the province to Metropolitan Toronto on September 28, 1963. Markham Road continued to be signed as Highway 48 after 1963, despite the fact that the highway was under local jurisdiction. The section of Highway 48 through the Village of Markham between Princess Street and 16th Avenue was transferred to Markham on January 21, 1965. This transferred portion of Highway 48 was subsequently designated as a Municipal Connecting Link on February 11, 1965. On April 1, 1995, a 3 km section of Highway 48 from Steeles Avenue to Princess Street in Markham was transferred to the Regional Municipality of York. York Region renamed this downloaded section of Highway 48 as York Regional Road 68. The Municipal Connecting Link along Highway 48 through the former Village of Markham was repealed by a Minister's Order, dated March 30, 2006. An additional section of Highway 48 from 16th Avenue to Major Mackenzie Drive in Markham was transferred to York Region on March 7, 2007. Like the section of Highway 48 lying south of the former Village of Markham, the downloaded section of Highway 48 north of the former Village of Markham was also renamed as York Regional Road 68. Since 2007, the official southern terminus of Highway 48 has been at the Major Mackenzie Drive intersection, which is near the urbanized limits of the present-day City of Markham.
During the late 1990s, the northern section of Highway 48 also experienced significant changes. The north section of Highway 48 was one of the casualties of the mass highway downloading in Ontario in 1997-1998. On January 1, 1998, the entire 36 km section of Highway 48 between the Highway 12 Junction near Gamebridge and the Highway 35 Junction in Coboconk was transferred to the Regional Municipality of Durham and Victoria County (now the City of Kawartha Lakes). This section of the highway is known now as Durham Highway 48 and Kawartha Lakes Road 48. The former concurrent routing of Highway 12 & Highway 48 near Beaverton was discontinued in 2004, since the route of Highway 48 no longer continued north of Beaverton. As a result of the 2004 highway renumbering, Highway 48 now ends at the Highway 12 Junction south of Beaverton. This has also resulted in a discontinuation of Highway 48 as a Trans-Canada Highway route, since Highway 48 no longer shares part of its route with Highway 12.
Highway 48 traverses mostly rural portions of Central Ontario, though just west of this highway there is much suburban development as population shifts northward from Toronto. The highway passes through a handful of smaller towns and communities along its 70 km route, but the only really large centre is Markham, located at the southern end of the highway.
Adapted by Bob Holden for the newsletter: http://www.thekingshighway.ca/Highway48.htm
Facing west along Hwy 48 towards Sutton at the Pefferlaw Bridge near Port Bolster (October 3, 1990)
(Photo courtesy of Ontario Ministry of Transportation – © Queen's Printer for Ontario, 2011)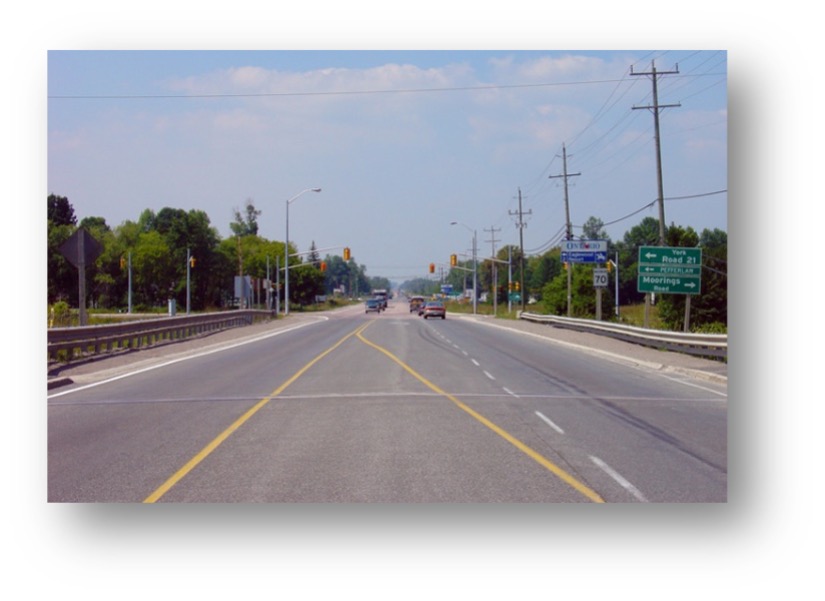 Here are some more photo updates of the progress on our caboose project courtesy of Paul Brady.  Well done guys!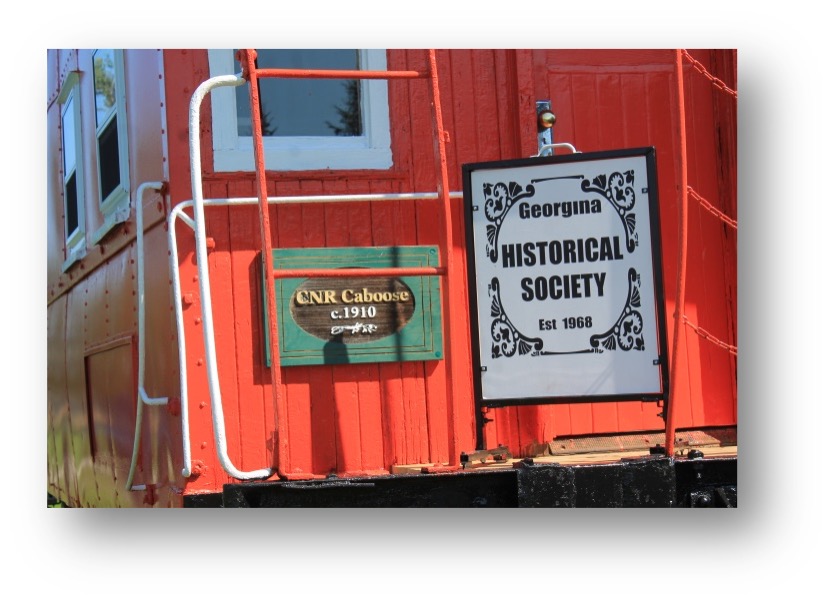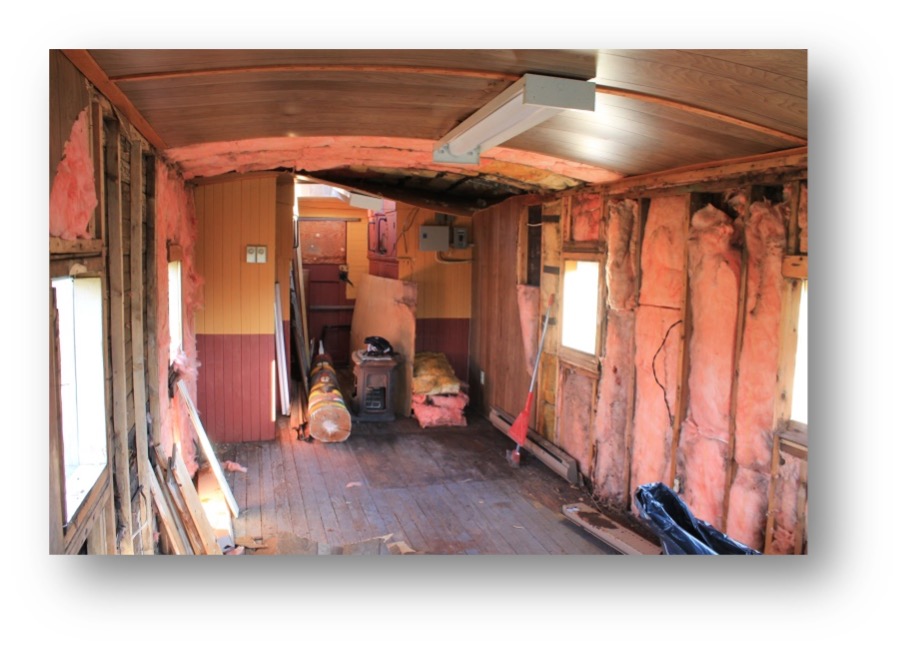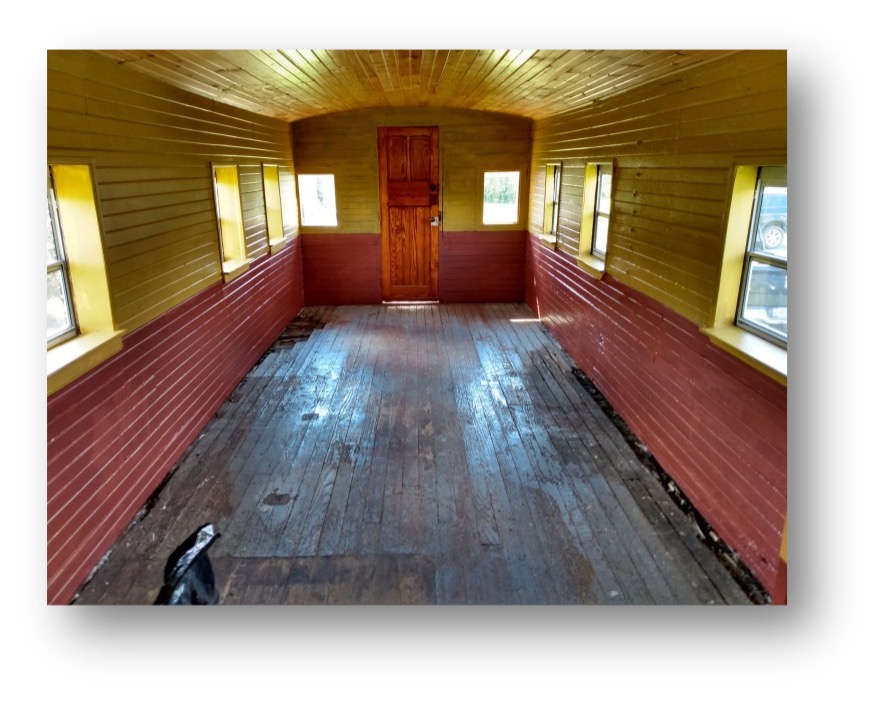 Most events will remain suspended due to COVID.  We will notify you if there are any changes in that status.
October 4th – Board meeting at Pioneer village; 2PM and exact location to be announced