Click to Download the PDF
Welcome to the December newsletter of the Georgina Historical Society. I want to thank you for your support, and as your new GHS President, I hope that I can continue to move the Society forward.
The last two and a half years of COVID have been very difficult, but Tom Glover, the past President, did a great job of holding things together and he will remain on the Board to help me through the rough spots.
I want to thank Sandra Dickinson and Karen Wolfe, two long-term volunteers who have been involved with the Georgina Historical Society Board of Directors for many years who are stepping down from the Board. We will miss their massive commitment to the Society. I also want to thank Wayne Phillips for stepping into the Vice President position and Kimberley Brady for joining the Board of Directors, and the rest of our executive board, Gail Moore, secretary, Sue Horton, treasurer, and directors Bob Holden, Sarah Harrison, Dee Lawrence and Elizabeth McLean for their excellent contributions.
My relationship with the Society started in 2017 as I was trying to get information regarding the historic Bonnie Park/Lorne Park in Jackson's Point. At that first meeting, I found the members to be very friendly and committed to the history of Georgina, and they have become good friends. However, if I'd known then that I would be president in five short years, maybe I would've run in the other direction! Just kidding of course; the Society has opened up a whole new avenue of interest for me. Going in, I knew that Georgina has some of the most interesting history in Ontario, and my membership in the Society has proven that there is something new to learn about Georgina's history almost every day.
Bob Holden is still our media guy, and he will be continuing his role as the editor of our wonderful newsletter and website. If you have any stories that you want to share with us, please don't be shy. Send them to Bob and he'll be glad to publish them.
As we look forward to the holiday season and New Year, I want to wish you all well and remind you that the next General meeting will be held on January 17, 2023 at the Georgina Pioneer Village, hopefully in the new school house. The meeting will be our always fun "Bring and Brag", where you bring something cool from your personal collection to share with us.
Paul Brady
President
A Georgina Christmas – By Paul Brady
You've been in Canada for about six months. Your journey across the ocean in the ship was really rough, but you finally landed in Montreal. This city has been growing for nearly 200 years now and is a well-established metropolis, certainly not what you expected from the stories you had heard about pioneer Canada. The week you spent in Montreal as your father arranged passage to your new home had gone quickly, but your introduction to Toronto was a stark contrast to cosmopolitan Montreal. It's 1850, and Toronto is still in its infancy. Sure, there are lot of people here, but the in-town roads are ankle deep in mud, and the trail to your new home is a rutted mess.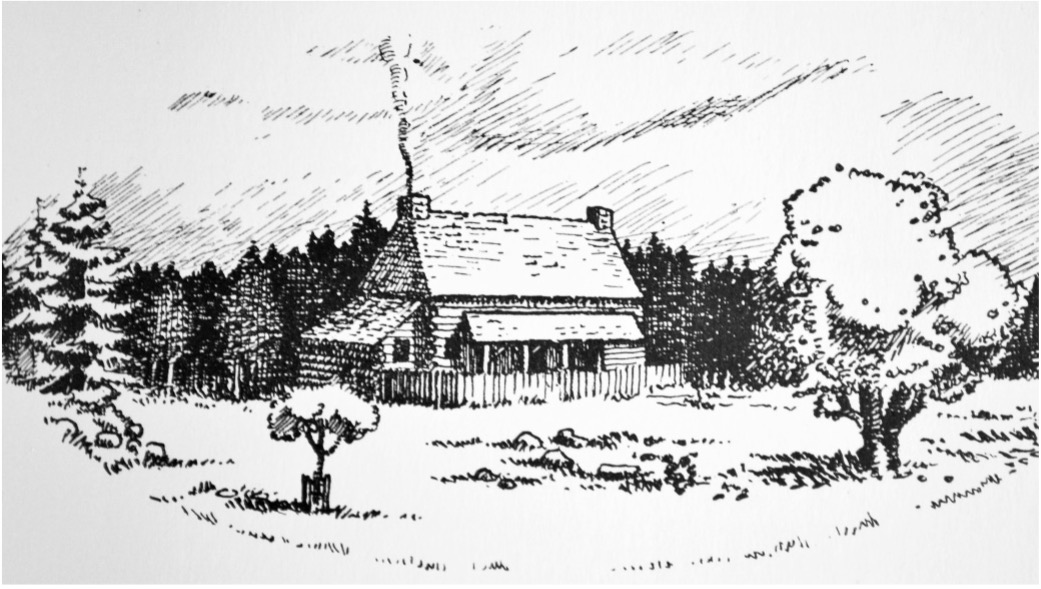 Your father has secured property near a lake about forty miles north of Toronto, in a region known as Georgina. He's been talking excitedly about this great adventure in the new world, a chance to prove himself as a farmer and business man, and an opportunity to own land, an impossible dream for a commoner in Scotland.  The original owner had already built a house and barn and had started to clear the land, but the cold hard reality of farming life in Upper Canada had driven him back to Toronto. But, as they say, one man's misfortune is another man's opportunity, so there you are, in a rattily, rough coach, heading north to the promised land with your mother, father and your little brother Fred.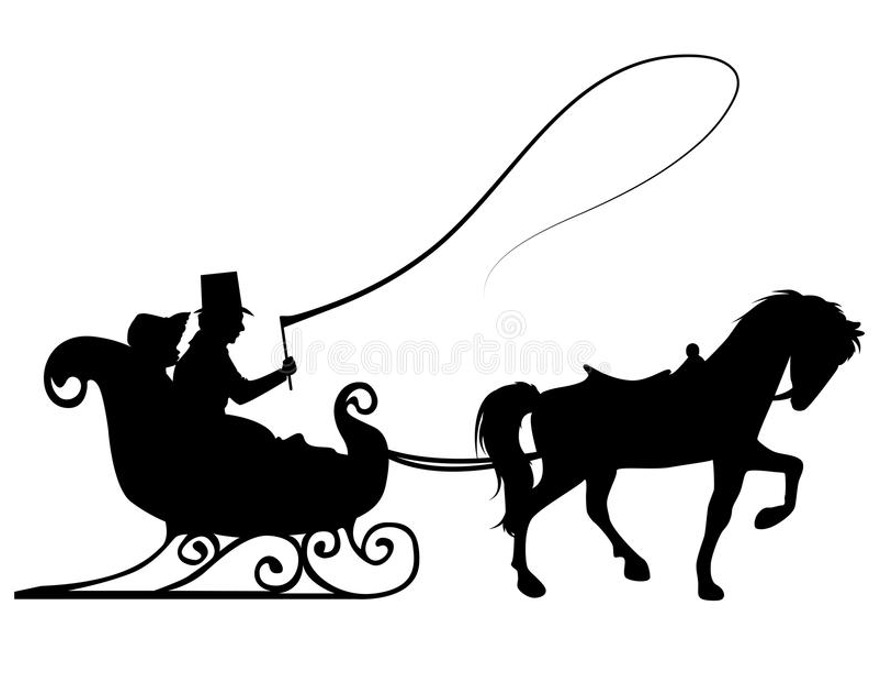 And now six months later, it's Christmas day. The beautiful home that had been promised turned out to be a drafty log cabin, and the magnificent barn to shelter your father's cattle was actually a drafty shed. Fortunately, you had arrived in the month of June, so your family's enthusiasm for a new life, and an especially beautiful Lake Simcoe summer, had combined to let your folks create a comfortable and productive farm. The other settlers had welcomed you into the community, and this Christmas day found you headed to church in the cutter behind ol' Dolly, the horse that had been left at the farm. The little wooden church came into view looking a little rough after ten years of weathering, but is still a wonderful sight, with the frozen Lake Simcoe glistening in the background.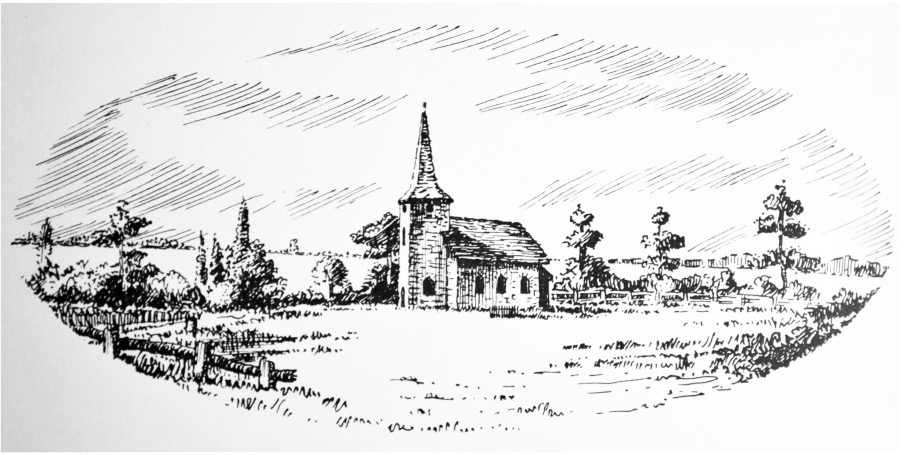 Reverend J. Gibson is there to greet the congregation. He's been the Reverend here for some time now, a highly respected member of the community. After his service your mother invites him to your modest home to share Christmas supper, but he's already promised Lieutenant Sibbald that he and his new wife would dine at Eildon Hall. So, after re-uniting with friends you haven't seen since the first snow a month ago, and retrieving little Fred from under the third-row pew, you clamber into the cutter with your folks and prepare for the short one hour ride back to the farm. It's been fun seeing your friends, but the Christmas supper awaits at home.
Back home by noon, the cabin has cooled off quickly with no one to tend the fire in this crisp cold air. Father has scrambled off the cutter to get the fire in the hearth going again, Mother has started to prep the wild turkey that Mr. Comer had bagged and traded Mother for two loaves of bread, and you are left to put ol' Dolly into the barn. You've become quite adept at hitching up and tending to Dolly, she really is a great old horse. Dolly's little donkey companion is glad she's back, and is braying her delight as you close the barn door.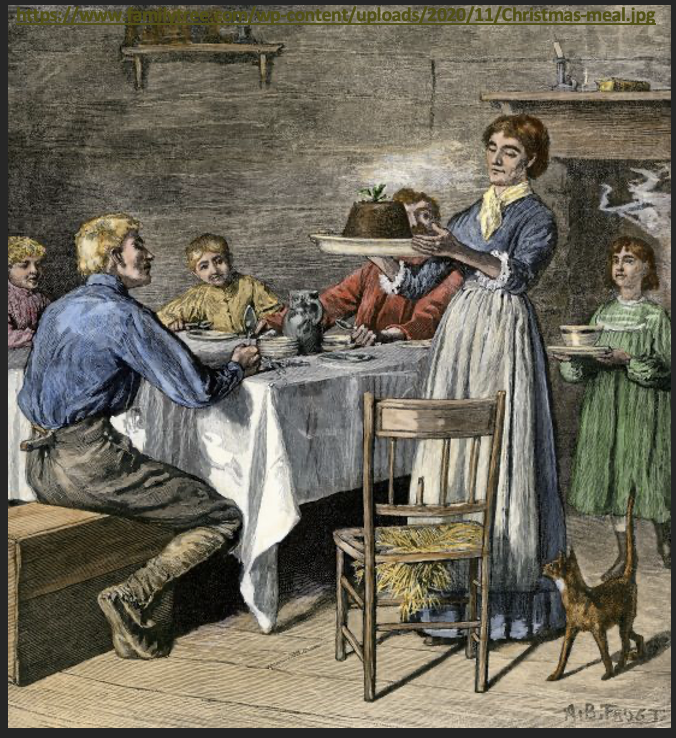 Father has the cabin warmed up by the time you get back, and the turkey has been on the spit for about half an hour. Mother has been hard at work stuffing and seasoning the bird, peeling the potatoes that were harvested last fall, and festooning the table with her treasured glass decorations brought all the way from Scotland. The garlands that you helped her make over the last couple of weeks adorn the doorways, and a little pine tree, cut from the forest just outside the door, sits on a little table in the middle of the room. Father has been griping about the little thing since Mother brought it in, but Mother said that it added a sense of continental charm. Father dropped the subject and went outside to split wood in the yard. He knows we'll need the fire wood as we face three more months of winter snow and temperatures that could be deadly if you aren't properly prepared.
Fred has been driving everyone to distraction. Father has decreed that gifts will not be presented until after supper, a peculiar custom from back home, and Fred is not happy. You have learned not to question Father, so you have busied yourself helping Mother with Christmas supper. The favourable weather this fall has gifted your family with a fine harvest, and that is reflected in the feast that Mother has prepared, including the Apple Betty that crowned the meal.
And finally, with your belly full of turkey and stuffing, potatoes and desert, the gifts are presented. Just to add to Fred's agitation, Father has decided that gifts will be offered by age, oldest first, which means Fred must wait even longer. You are also disappointed, but you've convinced yourself that it will be worth the wait. Besides, it'll be a relief to see your folks opening their gifts, so that you can stop worrying that you will let the secret out of what Father had bought for Mother.
Father unwraps his gift first, and seems pleased with a pair of long red underwear, with a trap door in the bottom. Mother is next. You helped Father select a bolt of pretty blue linen for Mother to sew into a dress. Fabric like this is a real luxury, only made possible because of a rich harvest. Mr. Bourchier, the shop keeper in town, is a shrewd businessman and had ordered it in for Christmas, knowing that he could get top dollar for this bolt of fabric. Mother's pleased with the gift but her mind is racing, trying to think about how she could possibly form this cloth into something resembling a dress.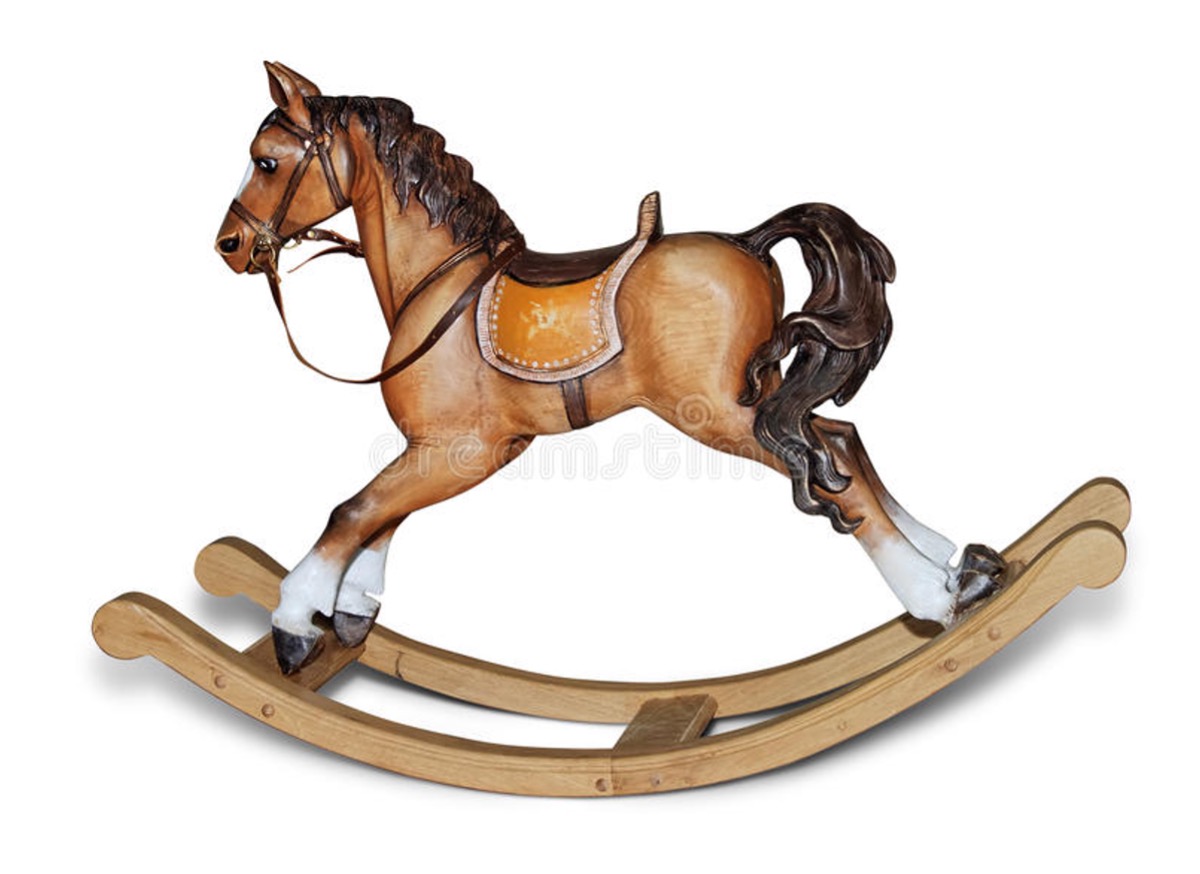 And now it's your turn. You've had all day to think about your gift, what could it be? You had been dreaming of having your own rifle, but the parcel concealing your gift just didn't look right. A couple of tugs on the paper wrapping, and a nice pair of high boots fall to the floor. Disappointed, but also understanding that a sturdy pair of boots can be the difference between life and death on the frigid nights ahead, you give your folks a big hug each and wait for Fred to unveil his gift.
Fred is nearly frantic now with anticipation. He's been tearing around the little cabin chattering away, pestering Woof the dog and driving everyone to distraction. Suddenly Fred spies a large parcel that has magically appeared in the middle of the room. Ripping away the wrapping reveals a rocking horse. Not just any rocking horse mind you, but a beautifully hand-crafted and brightly painted rocking horse that father had been working on in the barn since late summer. Fred climbs on in a flash, laughing and rocking as hard as he could.
So that was Christmas 1850 in your new home. The years fly by, other Christmases come and go, but that first Christmas in Upper Canada was the best.
First two images come from Paul Brady, the rest are clip art from a variety of sources…editor
A Short History of Christmas Traditions in Upper Canada
Excerpted from an article by Gord Sly of the Kingston Whig-Standard in December 2015 https://www.thewhig.com/2015/12/02/evolution-of-christmas-traditions
"When immigrants first came to North America, Christmas was not an important, or was perhaps a dormant, celebration. Most settlers were too preoccupied with survival to take the time to celebrate. Many, especially in the northern regions of the continent, worked on Christmas Day for the first year or two after their arrival. They needed to clear land, construct buildings and generally prepare for a long, cold winter in their new home. Christmas celebrations, when they did begin to appear, were originally adult affairs, visiting neighbours for parlour games, parties, feasting, dancing and other merriment. It wasn't until the early 19th century when Christmas became an exciting, important part of children's lives. As communities grew, schoolhouses began to replace haphazard home education and tutoring. Most children in early rural areas were valuable economic assets to their families and education usually consisted of learning practical skills and knowledge needed to contribute to their households. They were commonly referred to as "little adults" as "childhood" was a much shorter stage of life than it is today."
"Most pioneers in Upper Canada came indirectly from European countries, especially the British Isles, by way of the United States as United Empire Loyalists after the American Revolution. They brought with them many of their old Christmas traditions, somewhat improvised, given the resources available."
"Decorating for Christmas was relatively simple and usually involved the whole family. The father and boys in the family would go to the woods and cut down an evergreen tree for the branches to make garlands to decorate the home. This was before the Christmas tree became an important part of the celebrations. Garlands, decorated with ribbons, bows and berries, would be placed over windows, doors and on mantles of fireplaces. Cranberries substituted for the red holly berries used in the old country."

"Since mistletoe was not readily available in North America, the "kissing bough" served the same purpose at Christmas time. It was made from evergreen branches and hung by ribbons from the ceiling, usually at the entrance of the home. It created excitement at Christmas, especially among young people with romantic thoughts. If you were caught under the kissing ball or bough, you were usually soundly kissed."   
"The centrepiece of early Christmas celebrations was the Christmas pudding. The process of making this plum pudding began on "Stir Up Sunday," the last Sunday before Advent in November.
"Stir up Sunday" had its origin in the 16th century from a collection for the Sunday before Advent in the Church of England's (Anglican) Book of Common Prayer. It was meant to "stir up" the wills of people to harvest their good works for reward. The pudding began as porridge called frumenty. This was often eaten during Advent, which was traditionally a period of fasting before Christmas. The first puddings contained meat, eggs, flour, cinnamon, currants, berries and other fruit; in later years, it contained more fruit and little or no meat. Sometimes a coin or two might be inserted into the pudding, perhaps along with a "bachelor button."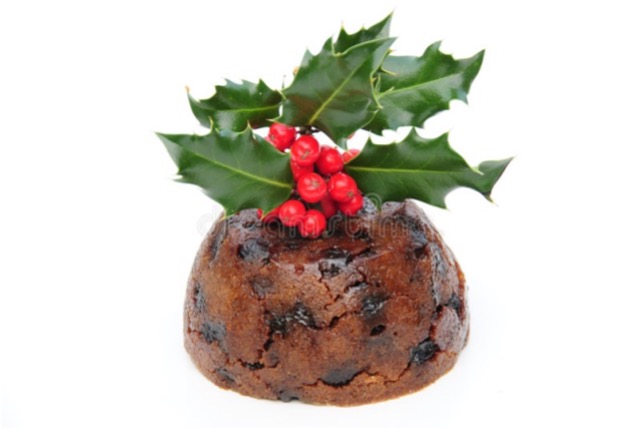 This superstition indicated that the one who found the button would remain unmarried. Everyone in the family made a wish as they took their turn stirring the pudding. It was kept in a big pot for five weeks, and then on Christmas Day it was steamed in a cloth or special mould and served with rum and brandy sauce. The latter was poured over the pudding and set ablaze immediately before mother carried it flaming to the dinner table. It would be served at the end of a meal of bagged and fattened wild turkey and fixings. The turkey replaced the traditional Christmas goose of the old country."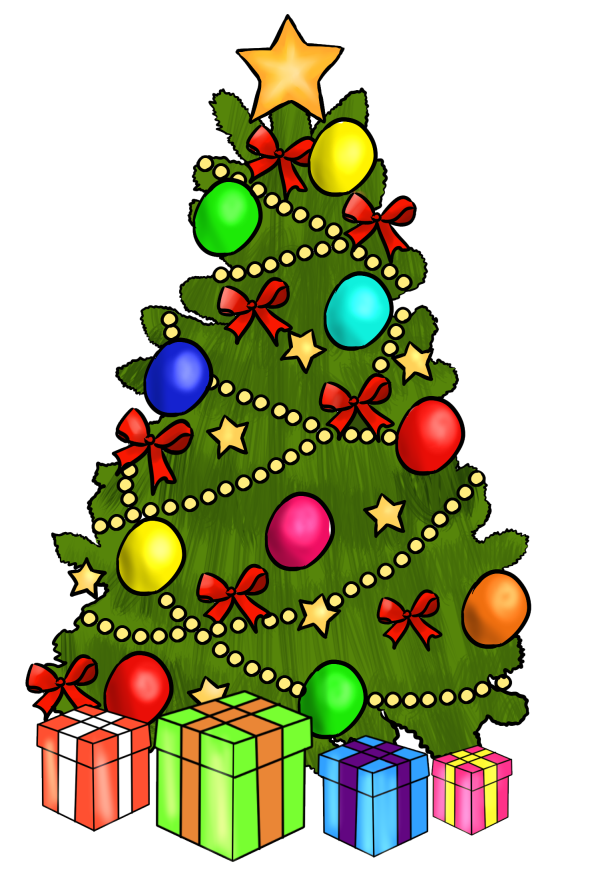 "Eventually, the Christmas tree became a major focus during the Christmas season. In the 1500s, Martin Luther, leader of the German Reformation and founder of the Lutheran Church, introduced the Christmas tree to the world. He wanted to simulate the sights and smells of the outdoors in biblical Bethlehem by bringing a tree indoors at Christmas time. Candles represented the stars in the sky, which shone down on the new-born baby Jesus. It wasn't until the 1830s that the Christmas tree became commonplace in North American homes. The newspapers in the 1830s reported that Prince Albert and Queen Victoria brought a tree into one of the royal palaces. The Prince Consort brought the tradition from his native Saxe-Coburg and Gotha, which is today a part of Bavaria in Germany. For many years before, German settlers in Upper Canada and elsewhere had been practising this tradition. Tree decorations might have included small candles, ribbons, small gifts, cookies, strings of popcorn, garlands and tiny, meticulously painted Dresden's, (embossed ornaments made of cardboard, another German tradition)."
"Early Christmas gifts were usually made by members of the family and placed under the tree without wrapping. A girl might receive a cornhusk doll and a boy a wooden horse carved by his father. They might also receive an apple and once in a while, an orange. Children might also discover knitted wool sweaters, scarves, mittens and socks made by their mothers, grandmothers or older sisters. Pomanders were also popular gifts. One or more members of the family would stick cloves into an apple, orange, or any other fruit that was available, until the fruit itself was barely visible. It was then rolled in or shaken in a bag full of a mixture of cinnamon, spices, ginger and other ingredients. The well-seasoned ball was tied with a red and green ribbon that crossed at right angles, dried, and then placed in a bowl or hung in various places throughout the home to make the place smell nice and fresh. Perhaps the pomander was an early version of Febreze."
"In the 1840s, Charles Dickens wrote a very popular series of Christmas books, many of which featured ghosts in eerie settings. Among these were The Chimes and The Cricket on the Hearth, but the most famous was A Christmas Carol. It became a tradition before bedtime on Christmas Eve for the father or perhaps the grandfather, often in dramatic fashion, to read these stories to their children. The family would sit around a single candle or by a low fire for spooky effect. I wonder what the children dreamed about when they went to sleep."
"Santa Claus began his annual visit to children in Canada by the 1830s. He came in many descriptions over the years. He was called St. Nicholas after an ancient bishop in the third century from the area of present-day Turkey. He was bestowed sainthood because of his dedicated life of helping the poor, especially children. Although he was known around the world by many different names, the name Santa Claus comes from New York Dutch settlers who called him Sinterklaas, which was later Americanized to Santa Claus. St. Nicholas was also accredited with the origin of the Christmas stocking.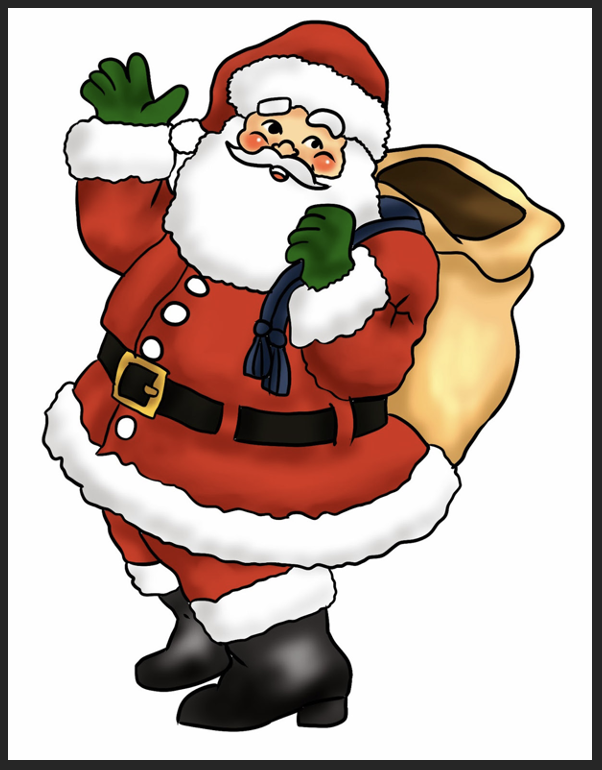 Through an open window of a poor family's home, he allegedly had thrown some pieces of gold that landed in a boot by the fireplace. Later, the boot became the stocking. In 1823, a poem written by Clement Clarke Moore launched St. Nicholas, Kris Kringle or Santa Claus into the mindset of early North Americans. The poem was called A Visit from St. Nicholas, which became the popular The Night Before Christmas. To use a modern term, but at a much lower speed than today, this poem went viral. It describes a plump, red-suited, white-bearded jolly old elf with a large bag of toys. He rode in a tiny sleigh pulled by six miniature reindeer, which St. Nicholas called out by name. The poem also describes Christmas stockings hanging with care from fireplaces and Santa entering homes on Christmas Eve by coming down the chimneys. Drawings in Harper's Weekly in the 1870s and '80s publicized that Santa's workshop and home were located at the North Pole. It would become a postal address to which children could send their "wish" letters to Santa before Christmas. In 1931, the Coca-Cola Company introduced and more firmly established Santa's modern image in its annual Christmas advertising."
Images in this article gleaned from a variety of clip art sources…editor
Christmas Firewood – A Memory of Christmas by Tom Glover
Like most kids we always woke up early Christmas morning.  My sister, brother and I would sit at the top of the stairs and repeatedly ask "Is it time yet?"  Finally mom or dad would say" ok "and we would race down stairs to see what Santa had brought.   After we had opened  our stockings and exchanged gifts we would have breakfast before heading out to the barn to help dad with the morning chores.  My sister would remain in the house to help mom clean up and assist with preparations for the Christmas meal.
My brother and I would always hurry through our chores, anxious to go back to the house to enjoy our Christmas gifts.  Imagine our chagrin when we asked our dad "Can we go now?" only to hear him reply,  "I need you boys to help throw 2 cords of wood on the truck, I have to deliver it this  morning."  Frustrated we quietly headed for the wood pile while father got the truck.  Wondering all the time we tossed the firewood on the truck why dad had to deliver it Christmas morning of all times.  Once it was loaded we were overjoyed to hear him say we were not needed for the delivery and we raced for the house as the old Ford truck headed down the lane.
I always remembered that extra Christmas chore and often wondered about the purpose of the Christmas firewood delivery.  Asking my mother, years later, she could not recall the exact incident but only would say "Someone was probably in need, your father was always doing things like that to help someone".  Of course, he was giving the firewood to a "hard up" neighbour.  After many years, I finally realized  he did not mean to "spoil" our Christmas morning but help someone else have a better Christmas.  Knowing our father, he did not like to take credit for his good deeds.
No longer would I look on the loading of firewood on Christmas morning as an additional chore imposed on us but the Christmas we helped our father do a good deed.
Can you identify the location and name of the mystery location below?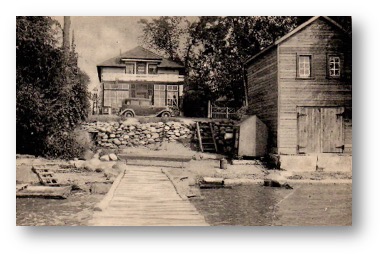 EDWARD Ross, lot 12, concession 5, was born in North Gwillimbury Township in the year 1839. He was married in 1858; no issue.*
*Excerpted from:   History of Toronto and County of York, Volume II; C. Blackett Robinson, Publisher 1885, p. 503.

In our Annual Meeting in November we held our election of officers for changes in your Board.  Our new President is Paul Brady and our new Vice-President is Wayne Phillips.  New also to the Board is Kim Brady who co-ordinated this year's successful Harvestfest.  The photo below shows those Board members in attendance at the AGM.  The dinner was excellent and Karen Wolfe, our former Past-president, gave a wonderful talk on the History of Pefferlaw.  Karen's contributions to our Board will be greatly missed.  Karen, we thank you for your many years of service to the GHS and dedication to the cause of preserving local history.  Sandra Dickinson resigned as treasurer where she served us well for many years.  Sandra agreed to remain on the Board after Sue Horton replaced her to serve out her term as a director.  Thank you for your service Sandra; your contributions will be truly missed.

Going, going, and soon may be gone!  Please note:  our 2023 calendars are now available at $15 each.  Please contact Tom Glover or Paul Brady on our contact list to secure yours.   
Right:  Our new Board present at the AGM, from left to right; Tom Glover, Past-president;  Paul Brady, President;  Kim Brady, Director; Sue Horton, Treasurer;  Elizabeth McLean, Director;  Gail Moore Secretary;  Bob Holden, Director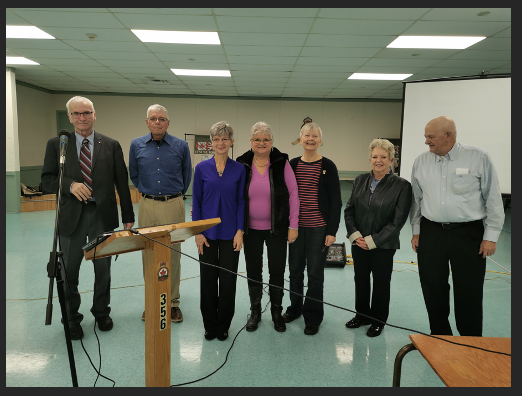 Events
January 9th – Board Meeting, @ 2 PM in the Noble House, Georgina Pioneer Village
January 17th – General Meeting tentatively scheduled at the School House, Georgina Pioneer Village, meet and greet at 6:30 pm, meeting at 7 pm – theme 'Bring and Brag" – location will be confirmed to the membership as soon as possible.