Click to Download the PDF
Welcome to 2023. Another year is behind us and the pages of the calendar are flipping over, just like in the movies. Georgina's fascinating history is still being discovered and explored, but we mustn't forget that history is being made every day. We are still coping with COVID and its variants after three years, and a "new normal" is changing the way we live our lives. I am certain that a hundred years from now the history being made today will be explored and, hopefully, celebrated. Modern media makes it appear that current history has never been better documented, and yet what will become of these records as technology marches forward? When was the last time you watched one of your home movies or listened to a cassette? Do you still have the equipment to do so? What will happen when "the cloud" is replaced by the next, as yet undiscovered, technology? What I am trying to say is, let's document our history in hard copy to preserve it for future generations. I'm sure that our great grandchildren will be just as interested in what is happening now as we are interested in what was happening a hundred years ago.
Actually, this may be the ideal time to write that story that's been in your head. We're always looking for stories from our members for the newsletter; we'd love to share yours.
Paul Brady, President
A look into Georgina historian Ruth Thompson's scrapbook
By Paul Brady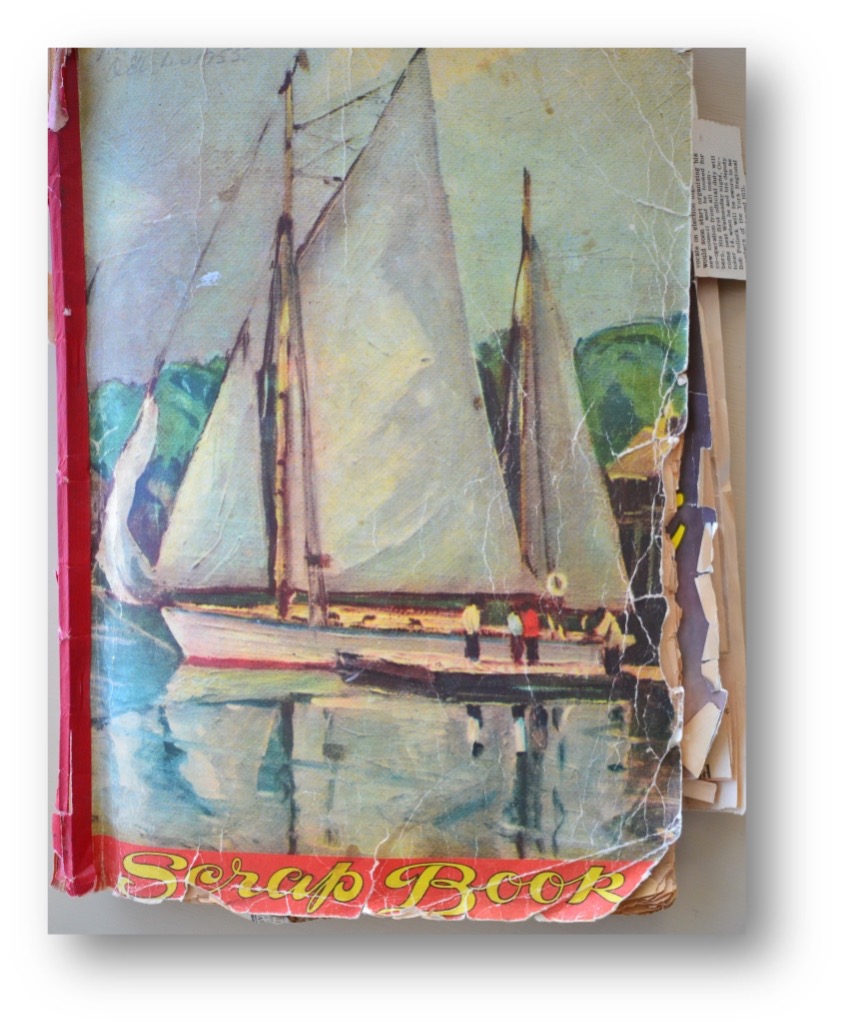 It's interesting to look back to a time when Sutton had its own newspaper, and there was enough news and local happenings going on to fill the pages every week. A feature of the Sutton Lake Simcoe Advocate was a column in the Centennial year of 1967 that shared glimpses of the history of Georgina, written by Mrs. Ruth Thompson. Mrs. Thompson's maiden name was Mildred Ruth Johnston, and her father was William Henry Johnston, the grandson of Captain William Johnson, the gentleman that almost single-handedly created Pefferlaw.
Born in 1905, Ruth spent her early life in Georgina, then commuted from Jackson's Point to Toronto on the Radial Line, first to attend Normal School (teacher's college) and then to teach at Parkdale Public School. 
She had a keen interest in Georgina's history, and was living in Nestleton, Ontario at the time of her weekly columns named "A Look at Our History". Ruth kept a scrap book of her column and other articles that interested her, and this scrap book has been preserved in the archives at the Georgina Pioneer Village and Archives. I have been going through the book, and I thought that it might be interesting to look at some of the items that captured her attention.
Ruth's scrap book doesn't record the actual date on her column, only that it is 1967, or the dates of her clippings, which appear randomly throughout the book. One of the fascinating clippings that she has pasted in describes one of the infamous locomotives that was used on the Lake Simcoe Junction Railway, the line that serviced Jackson's Point. The clipping states that;
"It is recorded that the population turned out all along the line to gape at the two headed fire eating freak as she puffed and snorted through forest and clearing at the hazardous speed of about 30 miles an hour, both huge smoke stacks pouring forth clouds of smoke laced with wood sparks. Depots were crowded with citizens who arrived on foot or in horse-drawn vehicles.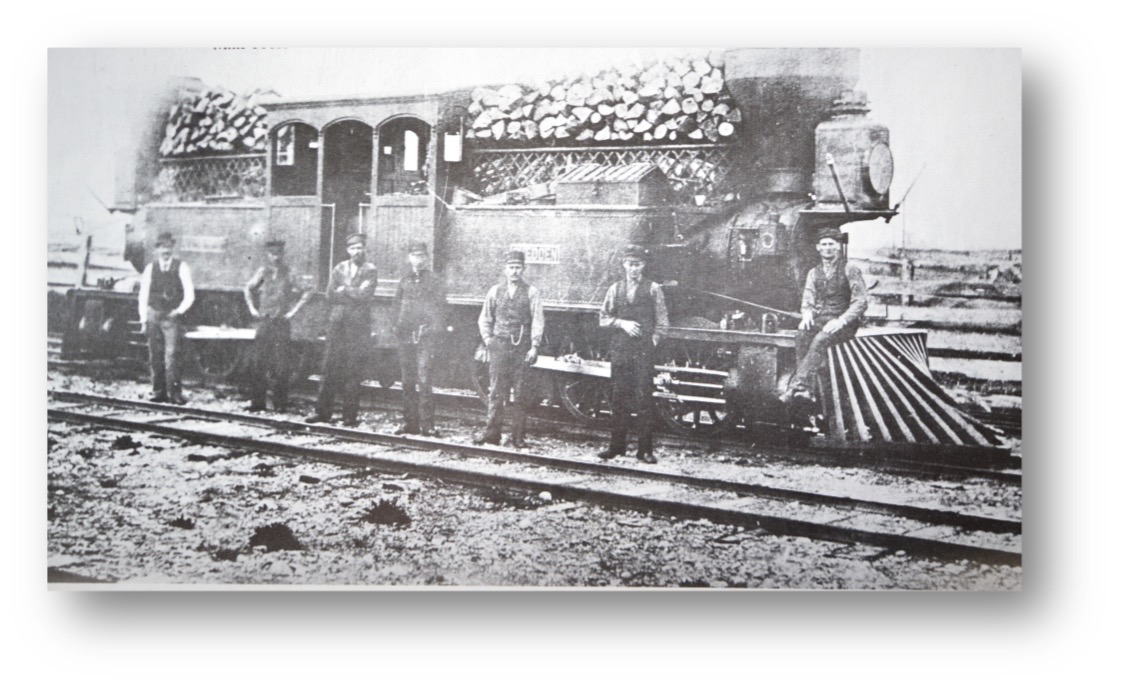 Village streets were decorated with flags and bunting, bands blared and guns were fired, while terrified horses leaped, and plunged at the approach of the thundering engine."
Here's a picture of this fearsome machine, it must have been quite the sight roaring along the tracks, especially in the context of 1878.
Here's another clipping, undated, but obviously from the 1967 era, describing a new bridge to be built:
"New Bridge for Mossington Park The single-lane bridge at the mouth of the Black River at Mossington Park will be replaced with a new bridge next year. The engineering reports will be carried out this year, and the construction is slated to be carried out during 1969. The single lane bridge has long been a bottleneck on the lakeshore road, and replacement of the structure has been discussed on many occasions, however, this is the first indication that some action will be taken."
Luckily this story had no legs, as the Blue Bridge remains in place today, over fifty years after this story was published.
On the next page is this clipping, which tells us that "There is some talk of a large boat being placed at Virginia Beach when the Morning Glory swamp is turned into a provincial park in the near future, this could be a very wonderful advantage to tourists, if properly operated, but seems to be a future dream. Uncertain account of shallow water, etc. No harm dreaming."
This is an interesting story, but I don't think anything came from either lead. The Morning Glory swamp isn't a provincial park, and I don't recall any large tourist boats moored at Virginia, unless the Georgina Island ferry was the basis for the story.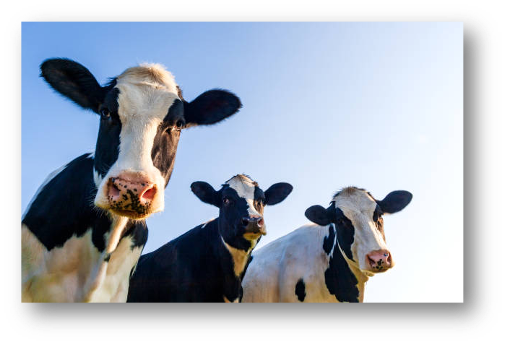 Now here's a clipping that is the type of subject that only a small paper of that era would cover: "Each year cattle are transported from the farm of Eric Cronsberry, Duclos Point, Virginia, by barge to Georgina Island to pasture for the summer. In the fall 2 evaded the round up and remained on the island. Last week – after the ice was good and thick – the 2 evaders, accompanied by their 2 healthy calves, crossed to the mainland and returned to the Cronsberry barn. Smart cows – they got home to shelter before the ice storm, and some people call animals dumb."
The author of this 1960's clipping had a great angle on how smart the cattle were. Eric Cronsberry's barn is some distance from the lake, and would require some knowledge of the lay of the land to find their way back. It's also interesting that cattle were transported to the island in the mid-sixties. There must have been barges on the lake at that time to provide this service, something I don't think is happening today.
I hope you enjoyed this little peek into Ruth's scrap book. There is a lot more here, these stories haven't even scratched the surface of what's in this book. I think that this also shows us that documenting things around you that seem common-place today will become rarities in the future. The keeping of a journal or a scrap-book now could throw a lot of light on our everyday lives for our great grandchildren.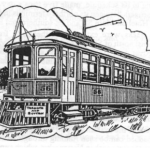 The Trolley from Toronto – The Metropolitan Railway
By Robert Holden
In most North American places electrified street railways were called interurbans connecting cities to their suburbs and nearby urban centres.  In Ontario, radial lines were so called as they "radiated" outwards from Ontario's cities allowing them to interconnect with each other.  The Metropolitan Railway Company, one of the first radial lines, was begun in 1877 along Yonge Street when grocery magnate Robert Jaffray persuaded the government to incorporate his company.  Agreements negotiated with local and provincial governments allowed the line to extend north of the city, and on April 16, 1891, exclusive rights were granted for 65 years for operation from Hogg's Hollow to Lake Simcoe. The 'standard gauge of 4'8½" was used as it facilitated interchange with other lines.  By 1890, the rails reached York Mills (Hogg's Hollow) and in1896 were extended north to Richmond Hill.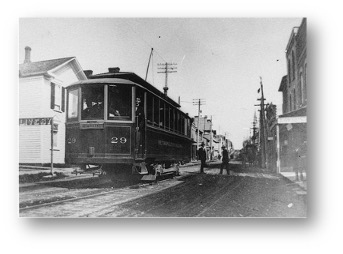 1899 First radial car on Main Street in  Newmarket
Soon it pushed further along Yonge to Aurora and in August of 1899 had reached Newmarket along its own right of way from Mulock to the base of Main Street where it turned north and ended.  Main Street congestion eventually forced realignment slightly to the west behind the retail stores and other commercial establishments.  A station and car shed were erected between Park Avenue and Botsford Street.  Rails were soon extended to Queen Street and there to the east of Main Street where they again turned to the north over a railway arch and trestle and beyond town boundaries by 1905.
The Company continued to push north to the lake.  An off-street right of way was constructed parallel to the east bank of the Holland River to the west of Sharon.  From there it swung northeast across Leslie just north of the Mount Albert Sideroad, then headed north, just east of Queensville.  There it ran to the northeast towards Ravenshoe Road to the east of Woodbine then to the north across the present-day site of Walmart in Keswick. The line continued northwest through Keswick just to the east of The Queensway.  From Morton, the present day Metro Road uses the old right of way passing east of Roches Point and then turning eastward in a straight line to follow the lake shore into Jackson's Point (far enough back allowing cottages to be constructed on the shore).
By 1906, a foundation was laid for a new power house at Keswick and rails were laid into Jackson's Point.  Construction commenced that year on a station at the northeast corner of High Street, and Dalton Road.  The first radial car was welcomed in Jackson's Point by June 1, 1907.   By 1909 right of way had extended southward into Sutton on January 1, 1909 opened for travel.  Later that year a new station was built at Orchard Beach.  The Sutton station remained in use as a waiting room until 1930 and is still occupied today as a real estate office.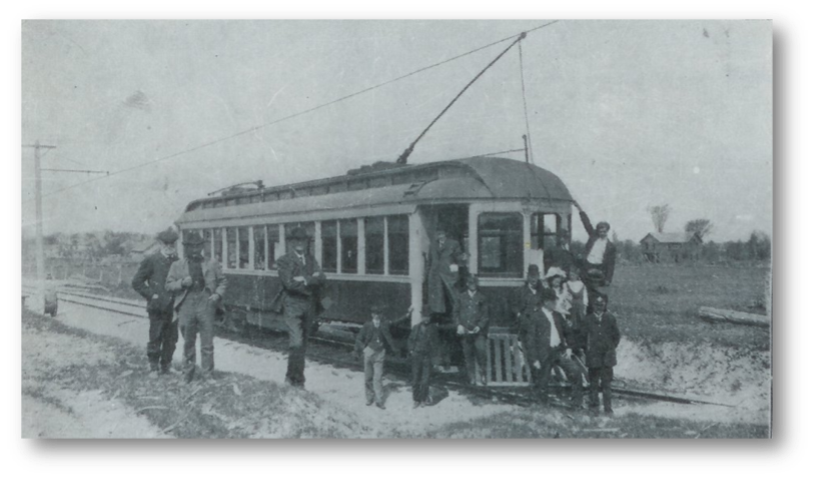 In 1910 the Keswick powerhouse at Church Street received an extension to meet ever increasing power requirements.  In September of that year Keswick finally got its own station.
In virtually every community through which the railway passed, prosperity increased by as much as 35% silencing objections to its progress.  Merged into the Toronto and York Radial Company, it kept its own identity operating as the Metropolitan division of that line.  To help sell their service the company established a park at Bond Lake, complete with boats, pavilions, a merry-go-round, and refreshment stands. A steam generating plant, like that at York Mills, was built at Bond Lake.  Torontonians and residents of other communities south of Lake Simcoe came north to spend their weekends and holidays along the south shore of Lake Simcoe. Students from various communities in Georgina, East and North Gwillimbury used the radial line to go to high school in Newmarket.
Passengers were not the only source of revenue for the Metropolitan. Almost a quarter of the line's revenues came from freight; southbound milk and produce from the farms, packages and small shipments of manufactured goods from the city and larger towns; and mail.  In northern York County the 1915 route map shows sidings serving a gravel pit at Deer Park Rd, Markle's at Queensville, Cane's Woodenware and the Waterworks in Newmarket,  and an interchange spur to the Grand Trunk also in Newmarket.  There was also a spur that ran down to Lake Simcoe at Boyer's Road.  Other revenues came from surplus power generated by their sub-stations. Power for Aurora came from the Metropolitan Railway.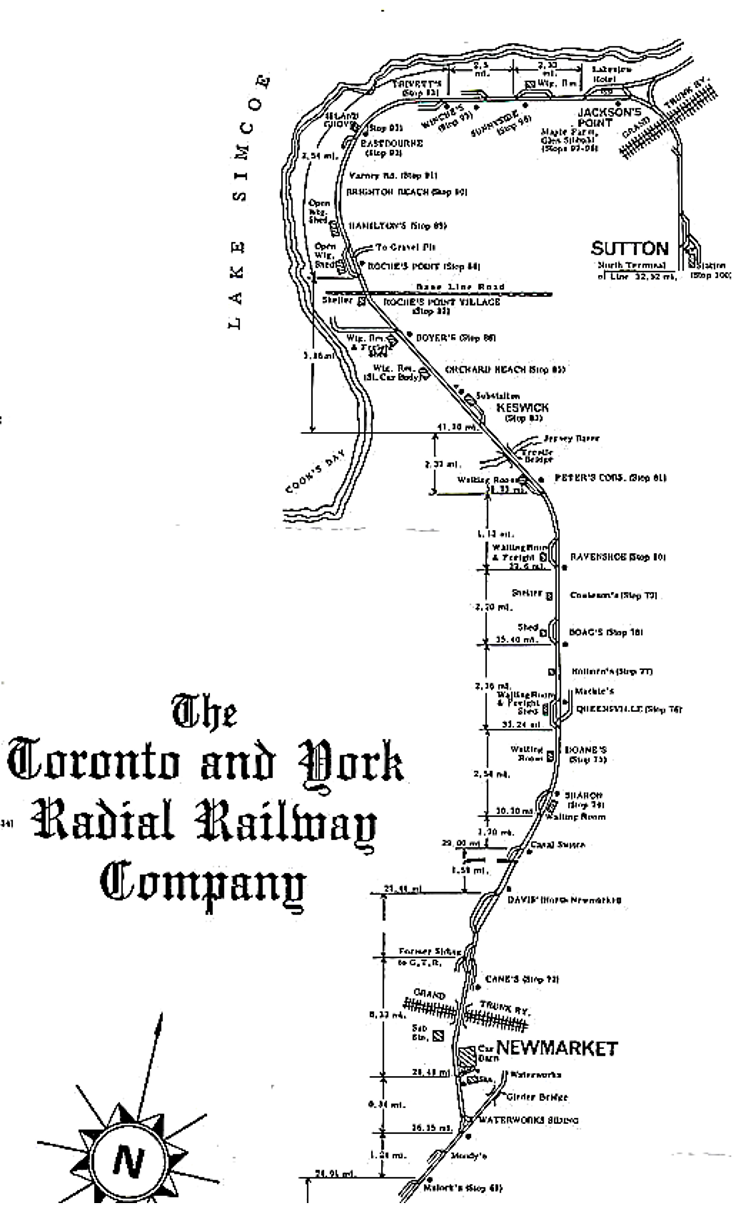 Left: Route as of July 1915 from Newmarket to Sutton
This map is not to scale.
Note there were numerous passing sidings and industrial spurs along the line and a turning wye at Jackson's Point.
Courtesy of Toronto Transit Commission
Some specialized equipment used on the radial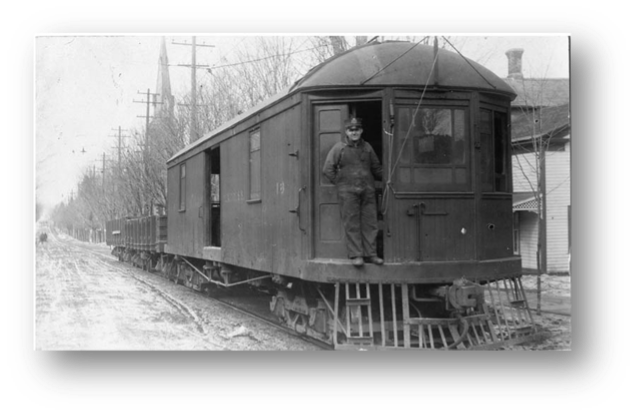 Above – Metropolitan #18 with freight consist ca.1900
Newmarket Historical Society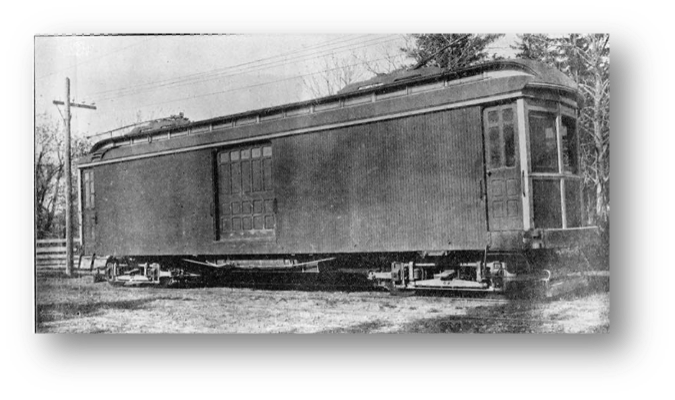 Above – unknown number express car.
Newmarket Historical Society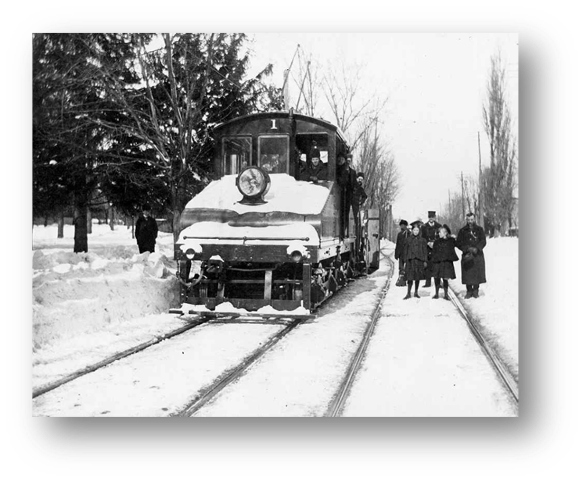 Above – Electric engine used for freight  and maintenance of way operations  ca. 1899
courtesy of Toronto Transit Commission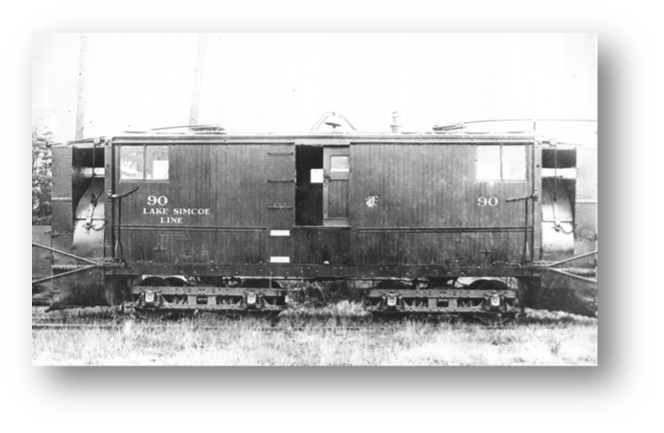 Above – Utilitarian work car ca. 1928
courtesy of Toronto Transit Commission
About the coaches and operation – "…coaches were painted a dark green and looked very much like a standard railway coach.  They were the same width but a trifle shorter.  Passengers could enter from either side and from front or rear.  Long hickory poles were placed on each side of the entrance for passengers to grasp as they mounted the steps of the car.  Each coach had a complement of two men, a motorman and a conductor, dressed in charcoal grey uniforms with their rank in brass letters on their caps.  The car could be driven from either end, and by changing the trolley pole.  The motorman operated the car by turning a large horizontally mounted crank on the top of a large oil immersed rheostat.  An air compressor and pressure tank suspended below each car provided the pressure to operate the air brakes and the shrill air whistle at every crossing.  Each coach was divided into two compartments; about one-third for smokers and the larger two-thirds for non-smokers.  A swing door separated the two sections.  Bright red fire axes were mounted in glass covered cases above each side of the swinging door with instructions for emergency use only."
Elman Campbell, Newmarket: Some Early Memories, Newmarket Museum Board ca. 1987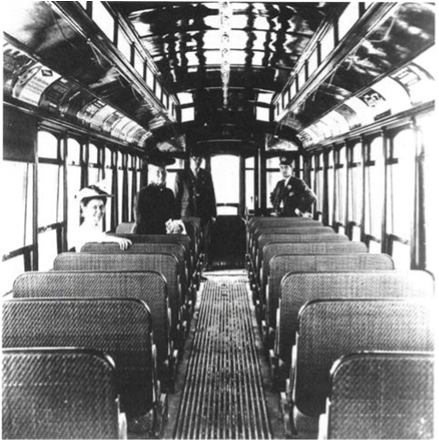 Above – Car Interior 1909 – Metropolitan Radial Line
Toronto Public Library
Coach accommodations
– "For those wishing a drink, a thin cup hung from a chain near a small tap and basin.  The water was gravity fed from a metal tank above a small booth that provided emergency facilities for men and women.  However these were not flush toilets, but only a seat mounted above a long pipe through which you could see the railway ties rushing below you.  A row of seats on each side of the coach was the sofa-type, similar to the seats in a standard railway coach, covered with tightly woven cane which stood up under all types of abuse and outlasted the lifetime of the system.  Brass hand grips on the back of each seat were used to swing the seat over to face the direction of travel, as well as providing a hand grip for passengers moving along the aisle.  Small wire parcel baskets were located above the windows, however most passengers piled their parcels on their seat in front of them unless a passenger wanted the seat."
Elman Campbell, Newmarket: Some Early Memories, Newmarket Museum Board ca. 1987
Roches Point Radial Depot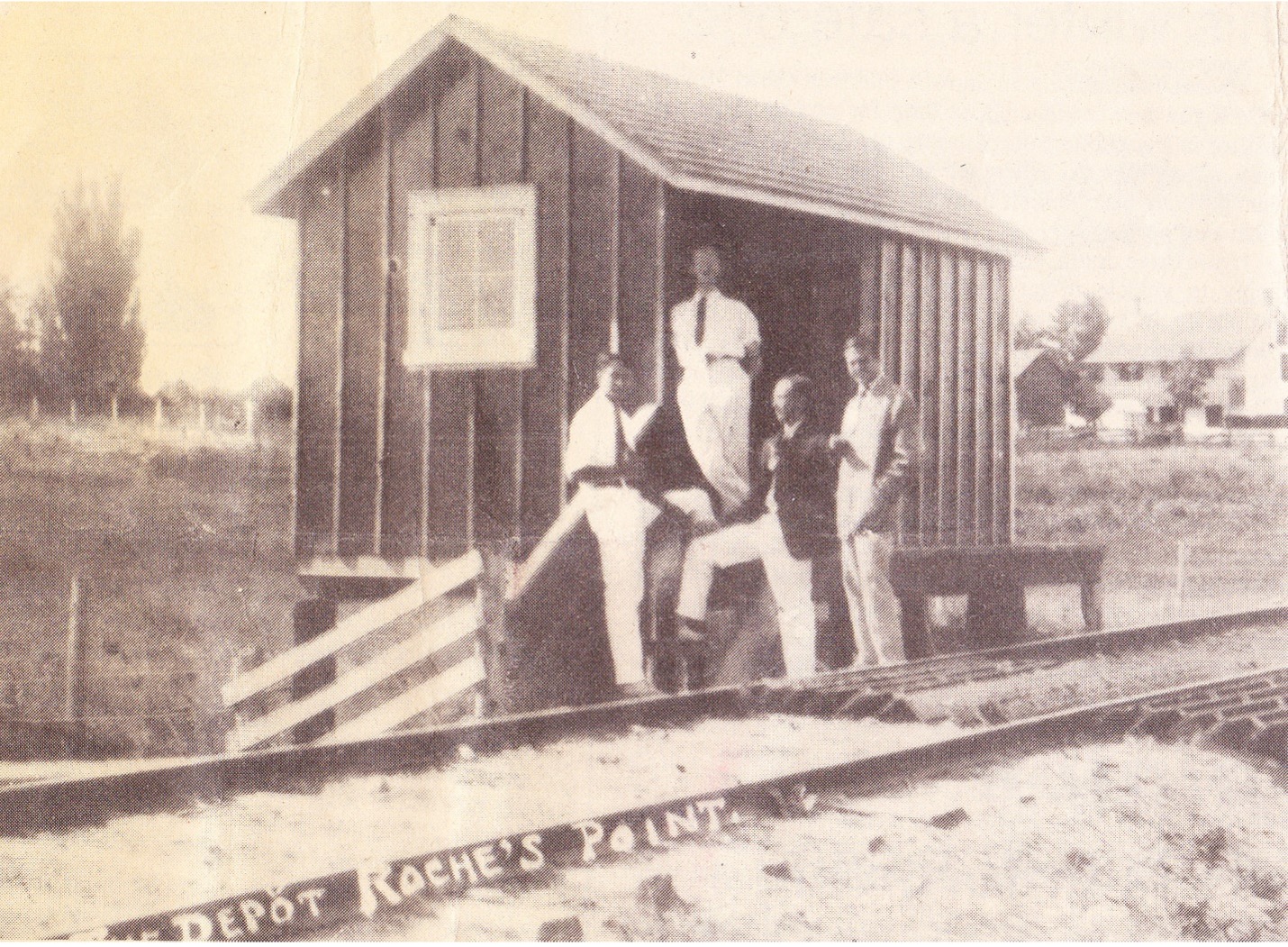 This photo shows the Metropolitan Radial depot at Roches Point in 1907.  This was contributed for publication in the February 8th, 1998 edition of the Advocate by Mr. and Mrs. Bruce Smith of Toronto.
Can you identify the location and name of the mystery location below?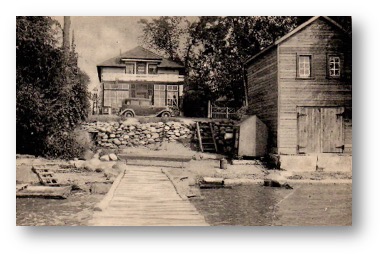 WALTER S. RAE, lot 13, concession 6, was born in the Township of Georgina in the year 1833, being the son of John Rae, who emigrated from Scotland. In the early days of settlement Mr. Rae tells us that the only road in the township was the one leading from Sutton to Beaverton. The school-house was a small log-building, although teaching was mostly done on the 'boarding out' system, the payment being twenty-five cents per month for each scholar. Mr. Rae was married in the year 1866 to Selina Honey, who was born in England; they have a family of three children. Mr. Rae, by economy and perseverance, has got together a comfortable home.*
*Excerpted from: History of Toronto and County of York, Volume II; C. Blackett Robinson, Publisher 1885, pp. 510-511
Hooray!  The schoolhouse has finally been approved for use.  We have been advised by the Town that we may hold our January 'Bring and Brag' meeting there.  Melissa Matt advises that she should have the requisite furnishings in place and ready for use.  Come early to check out the schoolhouse; lug a mug and some snacks as they won't be available for this meeting…meet and greet between 6:30 and 7:00 PM…meeting begins at 7:00.

Going, going, and soon may be gone! Please note: our 2023 calendars are still available at $15 each. Please contact Tom Glover or Paul Brady on our contact list to secure yours.
Events
January 17th – General Meeting tentatively scheduled at the School House, Georgina Pioneer Village, meet and greet at 6:30 pm, meeting at 7 pm – theme 'Bring and Brag" – location will be confirmed to the membership as soon as possible.
February 6th – Board Meeting, Noble House, Georgina Pioneer Village at 2:00 PM
February 21st – General Meeting; venue to be advised.
September 16th – tentative date set for Harvestfest; more to come later.