Click to Download the PDF
As we work our way through this dreary winter, it's encouraging to note that April is only two months away. Starting off the new year we had a great January general meeting, with many interesting items showing up for our "Bring and Brag." The meeting was held at the new school house at the Georgina Pioneer Village, and fittingly the first meeting in the recently opened building was held by the Georgina Historical Society. The building is a treat with its tall ceilings, huge windows and great acoustics, and we're planning to hold the majority of our meetings in this wonderful facility. Our next general meeting is February 21 at 7 pm, and we're looking forward to seeing you. We will be showing the 1949 classic "Stars of the Town", filmed in Sutton. If you've never seen this 40 minute film, this is the perfect opportunity to see what the town of Sutton was like on a nice day in 1949.
A few other matters have been brought to our attention, including the story in the local paper regarding the sad condition of our pioneer cemeteries. I can assure you that the Georgina Historical Society has been contacting the Town of Georgina about this problem for several years now, up to and including volunteering to help with the cleanup of these properties. The cemeteries continue to deteriorate, so maybe this newspaper article will be the catalyst for improvement.
Paul Brady, President
Georgina's Connection to Downton Abbey
By Stella Trainer
While watching the series Downton Abbey it had not occurred to me to think of the characters as anything but fictional, but in fact the drama is drawn from a real life family.
Susan Mein (1783 – 1866) married Colonel William Sibbald in 1807 and moved with him to various postings around the UK. Her life was an aristocratic one; she had grown up spending Summers in Scotland and winters in London. Their experiences and friends were upper class and by reading Mrs. Sibbald's biographical notes it is apparent that she was friends with Lord & Lady Grantham.
The character Maggie Smith plays as Violet Crawley, The Dowager Countess of Grantham, would be a couple of generations removed from the Lord & Lady that Mrs. Sibbald counted among her friends. Smith's character was born in 1842 when Susan Sibbald was 59 years old and had already purchased and named Eilden Hall in Georgina.
Susan's friend, and her contemporary, was Thomas Philip Weddell Robinson (1781-1859) who became, first the 3rd baron then upon his father's death, the 6th Baronet Robinson of Newby, also known as Lord Grantham. In 1805 he married Lady Henrietta, and they had daughters. Mrs. Sibbald was also acquainted with Lord Grantham's brother, the Hon. Frederick Robinson and his wife.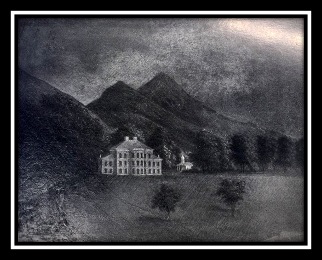 Eildon Hall near Melrose Scotland 1804
Copy with permission of W. Martyn Sibbald
Mrs. Sibbald recalls in her memoirs how fond she and her husband were of their friends and acquaintances who helped with lodgings and sociability and especially recalls this as they relocate :
"Lady Grantham sent a pair of warm boots of her own knitting for my little John to  wear on his journey, and such a kind note saying she was sorry we were to leave,
but hoping to see us at Newby if we ever again came to Ripon."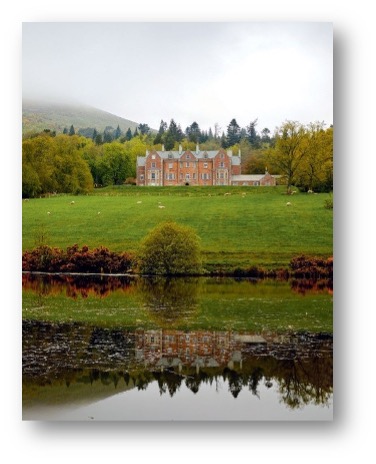 Eildon Hall, Melrose Scotland 2022
The Maggie Smith character is based on Violet Crawley, (1842-1928) who became the Dowager Countess of Grantham by her marriage to the Earl of Grantham. We follow the family for the period of 1912 to 1928 when the family fortune is crumbling and the upper classes are losing their grip on fortune and privilege and any connection to our Mrs. Sibbald is an archival one.
On another note, I recently came across a link to Mrs. Sibbald's childhood home, Eildon Hall in Melrose, Scotland. The grand house remains well occupied. You can find the current version of it at houseandgarden.co.uk and search "Eildon Hall".
Sources:
Hett, Francis Paget; Memoirs of Susan Sibbald (1783-1812) Plymouth, The Mayflower Press, William Brendon & Son Ltd. 1926
Eildon Hall
By R. W. Holden
Eildon Hall in Melrose Scotland was the family home of Susan Mein who married into the Sibbald family in 1807.  The Sibbald family home in Georgina was also called Eildon Hall after the one in Scotland and today is a museum located in Sibbald Point Provincial Park which interprets a diverse collection of original art, artifacts and furnishings from the Sibbald family with the assistance of exhibits and Museum staff. 
The original hall in Scotland was built in 1802 as a Classical villa for naval surgeon, Dr. Thomas Mein and subsequently extended by eminent Scottish architect, William Burn to form a sizable Tudor mansion for the 5th Duke of Buccleuch. Eildon Hall is located 1.5 miles (2.4 kilometres) southeast of Melrose, Scotland and a mile (1.6 kilometres) northwest of Newtown St Boswells. The orange sandstone core clearly defines the earlier Georgian phase of building from the pink sandstone additions. To the north elevation, the single-storey and basement pavilions of the original design are best evident. William Burn's gabled additions, carried out in his favoured Tudor-Cotswold style, were designed largely to accommodate visitors and servants to give the Duke a greater presence near to the Buccleuch Hunt, then based at St Boswells. This is particularly evident in the long kitchen wing to the east. Burn raised the roof of the earlier house and added two floors and canted windows to the pavilions, and ball-finialled gables and dormer windows. The classical north entrance portico replaces a segmental-pedimented porch by Burns. The dining room is particularly notable for its hand painted wallpaper.
The Hall was used regularly throughout the 20th century as a base for hunting meets with the hunt kennels latterly located at nearby Greenwells to the South. The house later became the traditional home of the Duke's eldest sons, the Earls of Dalkeith.
The square-plan courtyard stable to the east is contemporary to the original 1802 villa and is predominantly of the same orange although with small additions by William Burn in the same style as his additions to the Hall. It is particularly notable for its basket-arched and pedimented entrance and retains its patterned cobbled courtyard. The additions by William Burn are predominantly to the South (rear) range, raising to 2-storeys with further single-story piend-roofed ancillary adjoining the southeast angle. The stables have been largely converted to residential accommodation.*
*Sources:
http://portal.historicenvironment.scot/designation/LB15134
https://www.georgina.ca/discover-georgina/arts-and-culture/eildon-hall-museum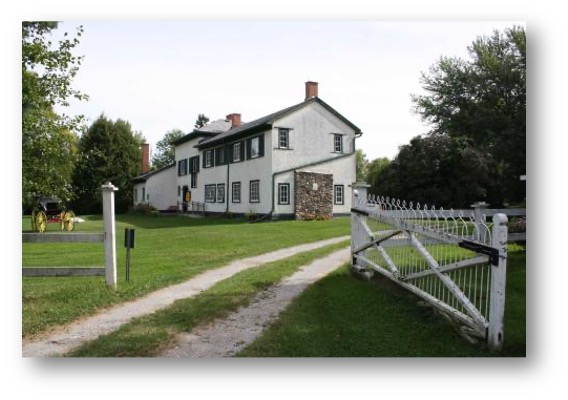 Can you identify the location and name of the mystery location to the left? We've had no response as yet on this one!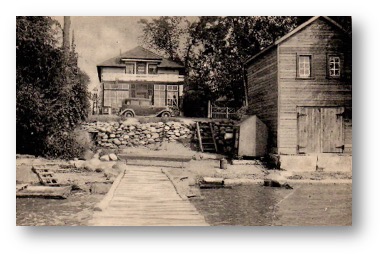 GEORGE TOMLINSON, lot 15, concession 2, is the son of George and Mary (Garlic) Tomlinson, who came to Canada in 1831, and located in this section the year following. His father died June 30, 1859, his mother died July 3, 1854. Their family consisted of four sons and one daughter. George remained at home until he was twenty-two years of age ; he then commenced for himself, and after locating in two or three different parts of the section, finally settled on his present lot. He has acquired other lands besides that which he resides on, and owns about eight hundred and sixty acres in the township. He married Miss Mitchell in the year 1836, by whom he has had nine children, seven of whom survive ; their names being as follow; Sarah Ann, born October 4, 1837, died February 19, 1884; Ezery Bartlett, born November 23, 1839; Mary Jane, born May 3, 1842; Priscilla P.T., born June 17,1846; Hannah L., born April 26, 1848 ; Ida, born July n, 1851, died February 6, 1855; Elizabeth, born January 4, 1854; Isabella, born July 14, 1856, and George W., born March 28, 1859. Mr. Tomlinson has been a member of the Council for several years. He is a regular attendant of the Methodist Church, and has given largely towards the erection of churches in the section.* 
*Excerpted from: History of Toronto and County of York, Volume II; C. Blackett Robinson, Publisher 1885, pp. 503-504.
Cemetery Disaster
By R. W. Holden

Several years ago, we ran an article along with images showing the appalling state of the back half of the Mann Cemetery on the Queensway just north of Old Homestead Road.  I'm sad to say that the situation is not much better today.  The Mann Cemetery, one of the larger pioneer cemeteries, is a closed burial place, and as such, is the responsibility of the Town of Georgina for maintenance and upkeep.  However, only that part of the cemetery visible from the road has received any attention, and that attention is minimal at best.  This shows disrespect to our pioneer ancestors buried there.
Throughout the rear of the cemetery, monuments and headstones are either hidden or toppled over as a the result of overgrown saplings and weeds pushing them askew and literally burying them in foliage so dense that they are completely obscured from view.  The following images are but a few examples of this state of affairs.
Can you find the headstones in the image below?  Hint; there are two of them!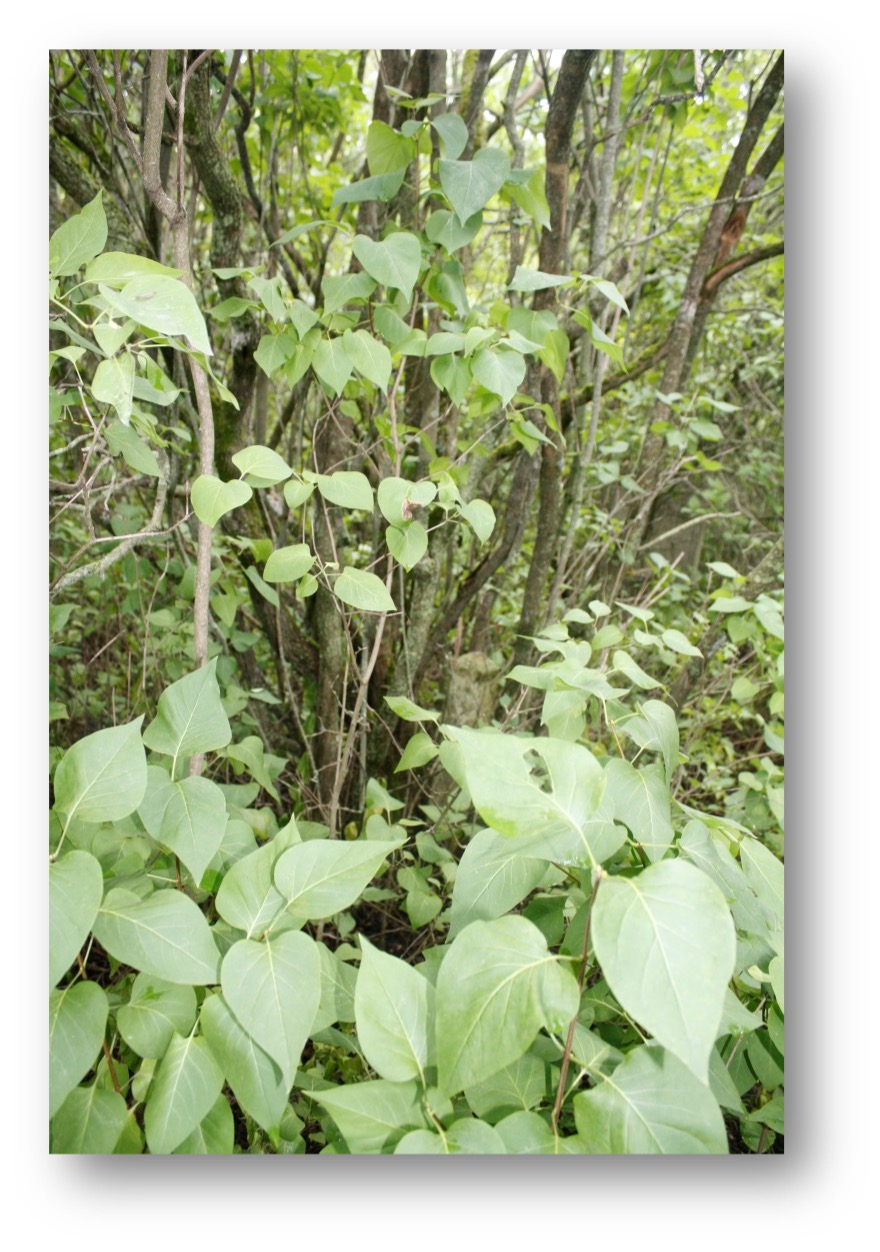 How about this one? Believe it or not there is a headstone in there!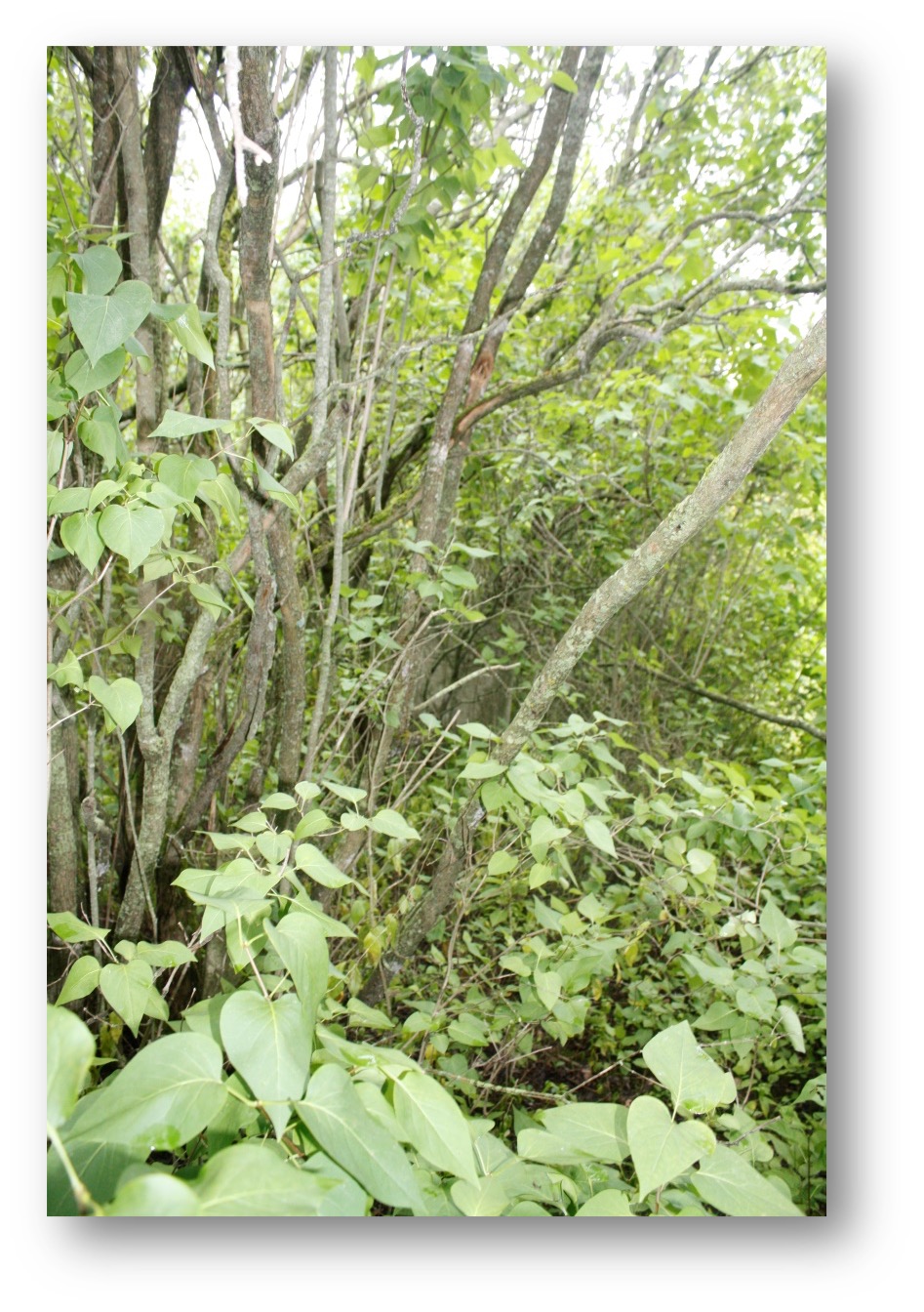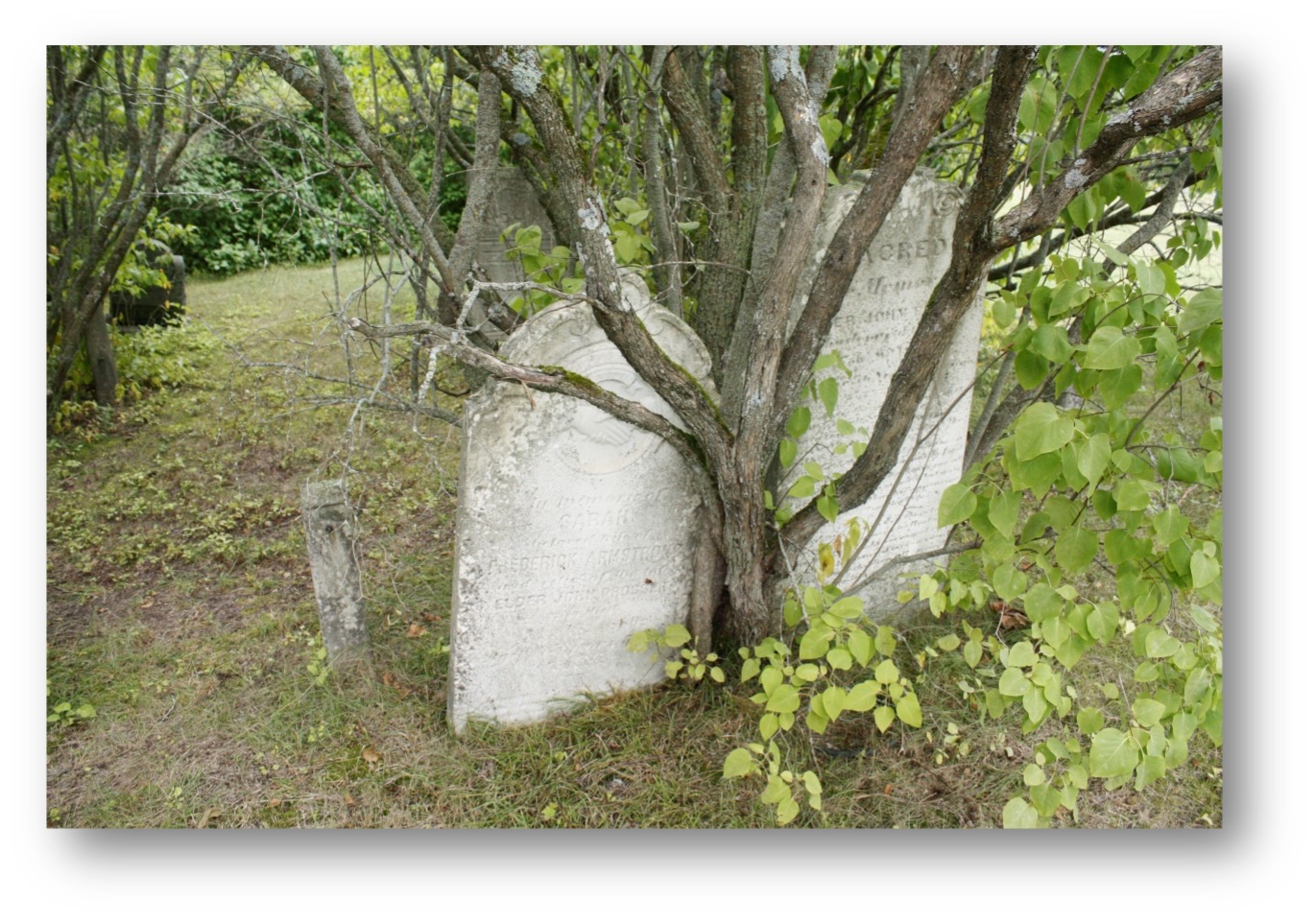 How about this jungle?  …or the one below?  The Town of Georgina needs to live up to its responsibilities in caring for these places.  This neglect has been going on far too long.
As a Historical Society, we also need to identify and catalogue all pioneer cemeteries and burial grounds so they may be properly cared for in a respectful manner.  We need your help in this.  Please contact Paul Brady, Tom Glover, or Bob Holden if you have information or are willing to help us in this matter.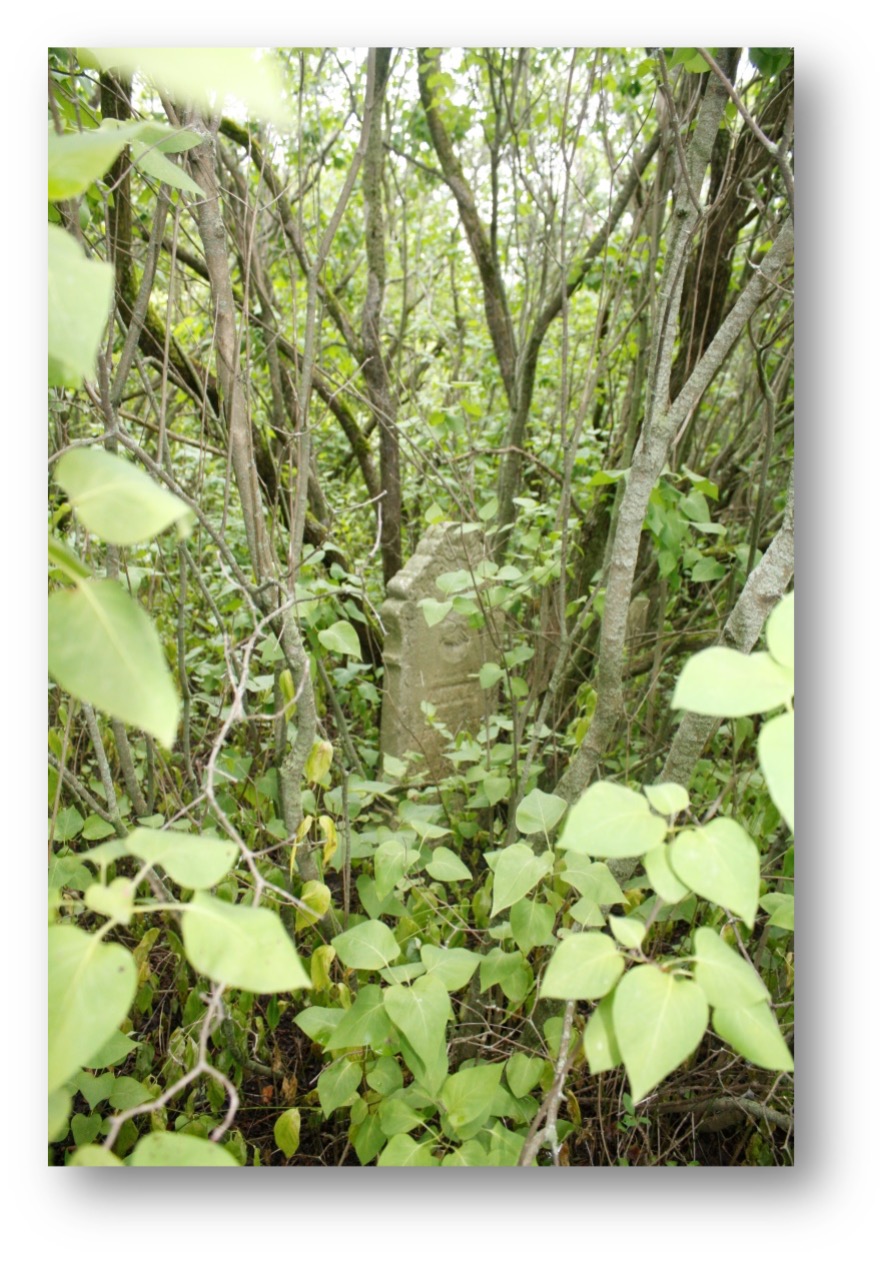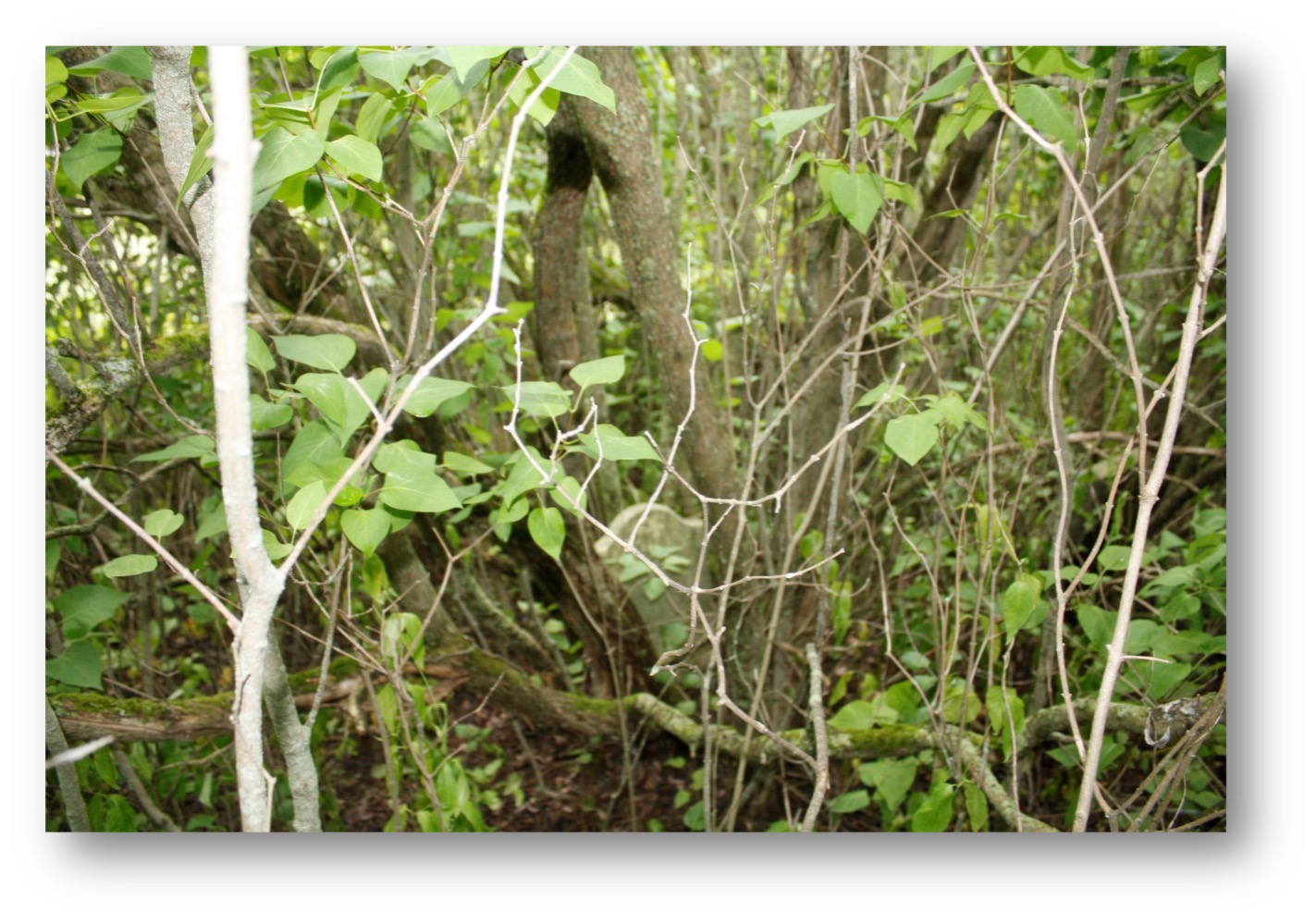 Hooray!  The schoolhouse has finally been approved for use.  We held our January 'Bring and Brag' meeting there.  The Georgina Historical Society is holding its February general meeting this upcoming Tuesday and we'd love to see you.  We will be screening the short film "Stars of the Town", featuring the town and people of Sutton on a nice summer day, filmed in 1949.  If you've never seen this film before, it's a great opportunity and if you have seen it, I'm sure that you'll see something that you missed last time. The meeting will be held at the new schoolhouse at the Georgina Pioneer Village at 7 p.m., but come early for a meet and greet.  As the schoolhouse does not have a kitchen, coffee and tea will not be available.  But, please feel free to "lug a mug" of your preferred refreshment.  We're looking forward to seeing you, we'll supply the popcorn!

Going, going, and soon may be gone! Please note: our 2023 calendars are still available at $15 each. Please contact Tom Glover or Paul Brady on our contact list to secure yours.
Events
February 21st – General Meeting; schoolhouse, Georgina Pioneer Village at 7:00 PM
March 6th – Board Meeting, Noble House, Georgina Pioneer Village at 2:00 PM
September 16th – tentative date set for Harvestfest; more to come later.