Click to Download the PDF
Another month is past and we're well into March. The sun has a little more warmth every day, and it won't be long before we're complaining that it it's too hot! With the warm weather comes the flowers and shrubs, and the Georgina Historical Society will be instituting a program of rehabilitation with the gardens at the Georgina Pioneer Village, and a freshening up of our new headquarters, the Quilters Cabin. Keep in mind that we are establishing a work crew to accomplish these goals, and if you wish to contribute a few hours of your time a week, that would be fantastic. Contact any of the board members, or drop us an email at georginahistoricalsociety@outlook.com, and we'll be glad to hook you up. This is what we did during our Caboose Rescue over the last few years, and the results of our efforts are on display every day at the pioneer village, brilliant in the bright orange caboose. With that in mind, our GHS General meeting is coming up on Tuesday, March 21 at the new schoolhouse, out at the Georgina Pioneer Village. This month's speaker is GHS past president Tom Glover with his presentation entitled "Solving Mysteries in the Family Tree", an entertaining look at exploring your personal history. Hopefully we'll see you there, the talk starts at 7 pm, but we always encourage you to arrive early for a meet and greet. Don't forget to lug your full mug. I will also mention that if you'd like to get more involved in the Georgina Historical Society, we would welcome a new board member. I hope that this message finds you well, and of course a big shout out to Bob Holden for his work on this excellent newsletter! I'm hoping to see you at the general meeting on March 21, it should be an interesting evening.
Historic Churches of Georgina
By Kim Brady
In the course of a week, I drive by several of the lovely churches in our community and I've often wondered how they came to be here, when they were built and other aspects of their history. To that end, I began looking for a bit more information about them. For some, information was readily available on a website or through an internet search but for other churches, details are a not so easily found. The latter will take a bit more time to discover.
The following information about Knox United Church in Sutton was extracted from "A History of Knox United Church" as compiled by Merle Mitchell for inclusion in the 2013 Knox Membership book.
Knox United Church, Sutton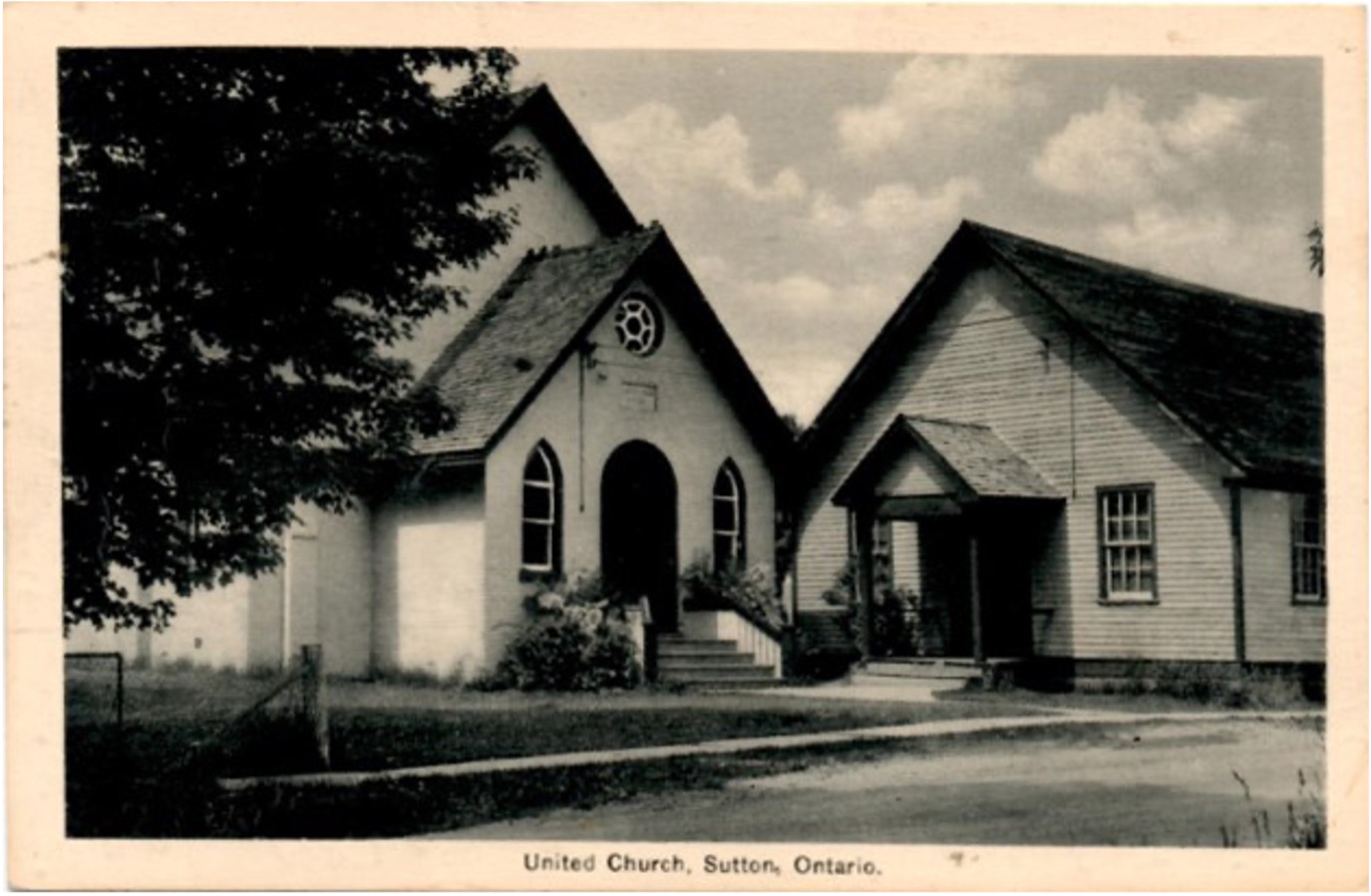 In 1845, Mr. James Bourchier, founder of Sutton and an Anglican, donated land for St. James Anglican Church. At the urging of his wife, a Presbyterian, he also donated land for Knox Presbyterian Church which later became Knox United Church.
Knox Presbyterian Church was built in 1863. It was a neat structure built of local Sutton red brick at a cost of $2,000, and was situated at its present location. Mr. and Mrs. William Pugsley donated the bell which rings now in the belfry every Sunday to announce morning service. It was brought from England by the Bourchiers. Rev. David Watson was the Presbyterian Minister in the Township of Thorah and Sutton was part of the Thorah charge but in 1866, Knox became independent from the Thorah circuit and Rev. James Gordon became minister. This same year the Sunday School was organized as well as the Ladies' Aid.
In 1876, the first manse was built on Catering Road across from the south end of the high school. Records show that "the Ladies' Aid bought a harness for the minister's horse or gave such items as a bushel of oats for his horse and five pounds of candles for the good man himself".
In 1878, pews were rented by congregation members, each family paying $4.00 per year. The Ladies' Aid reported $377.15 receipts for the year.
In 1879, the Methodist Church was built in Sutton. It is now the Masonic Lodge. By 1894, it had a membership of 160 and was looking toward independence.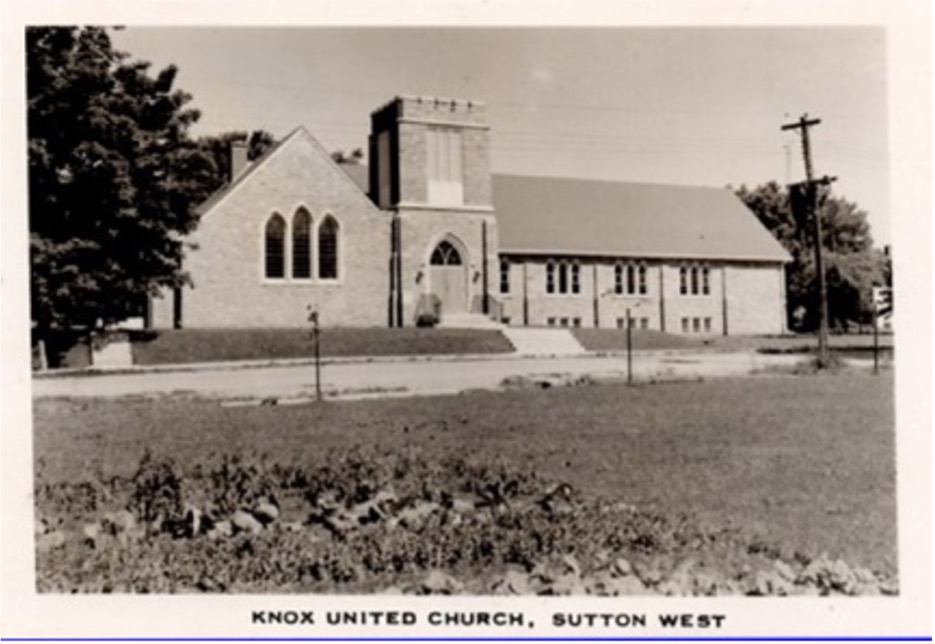 The Sunday School Hall was built to the east of Knox Church in 1921. Next to the hall, a covered shed sheltered the horses during church functions. Dr. Harold Learoyd became the choir director at both the Presbyterian and Methodist Churches, a responsibility he was able to manage as the Methodist services were held in the evening. Dr. Learoyd was the choir director for Knox for many years.
A new Presbyterian manse was purchased across from the old public school on Dalton Road in 1923. Then, in 1925, the United Church of Canada was established. Knox Presbyterian and Sutton Methodist Churches united and became Knox United Church. A few Presbyterians who did not join the United Church established their own church. They moved a frame church from Bell Ewart across the ice to Dalton Road and refaced the exterior with stone. This Presbyterian Church is still an integral part of the community.
An overheated furnace caused a fire in Knox United Church in 1955, damaging the interior. Shortly thereafter, sod was turned for the construction of a new church and in 1956 the cornerstone was laid for a beautiful stone church.
Knox celebrated its 150th Anniversary in 2013 and continues to serve the community.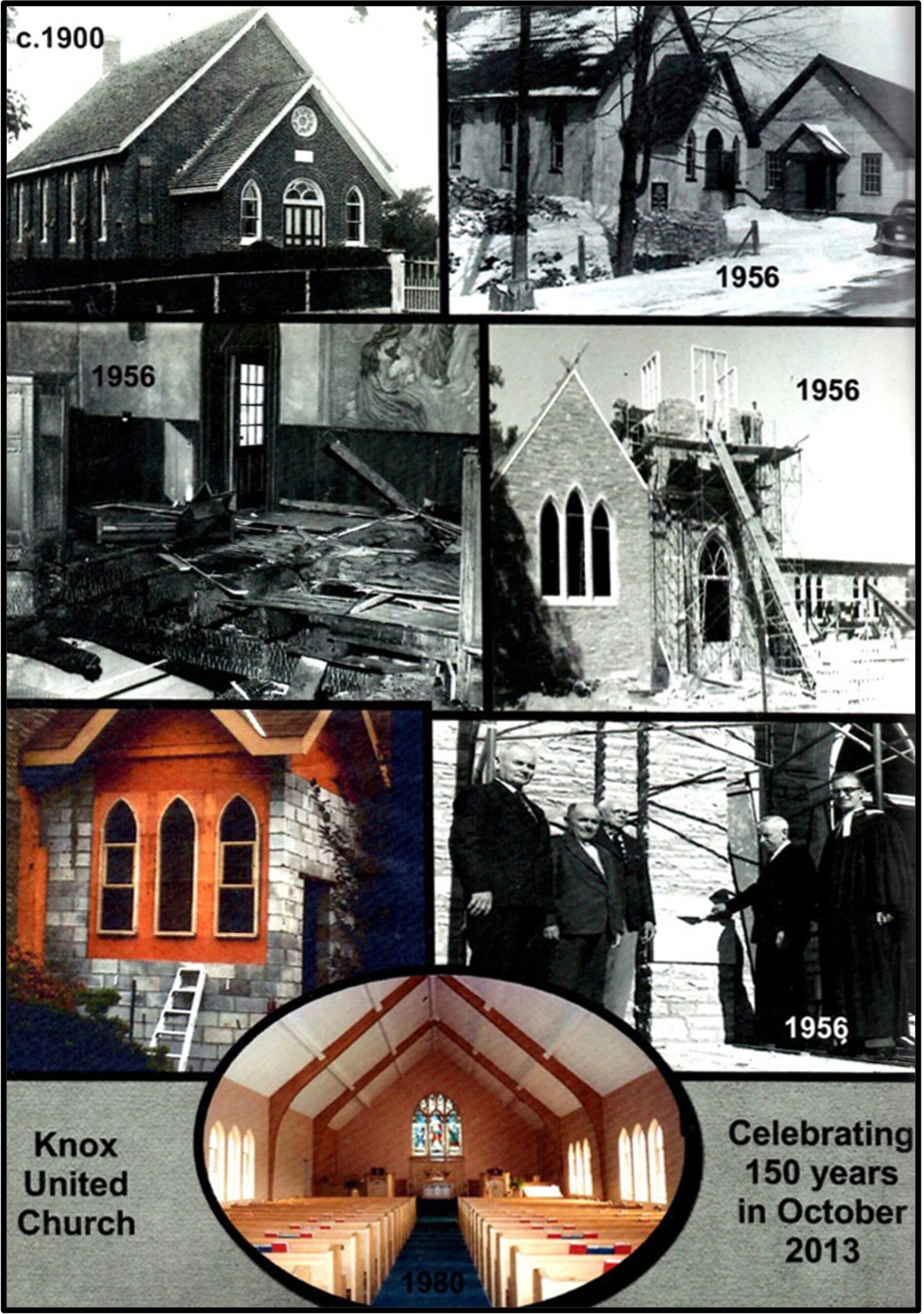 The following description of Georgina Township in 1885 was excerpted from the History of Toronto and County of York, Volume I, pages 160 to 162 published by C. Blackett Robinson, Publisher in 1885. A similar picture of North Gwillimbury will be presented in next month's issue of the newsletter.

***
"The two earliest settlers in Georgina, so far as known, were Captain James O Brien Bouchier and John Comer. The former commanded Fort Penetanguishene during the war of 1812, and afterwards took up land like many other officers who retired on half-pay at the close of hostilities and became permanent settlers. The first white child born in the township was the daughter of John Comer, who lived to a good old age. Mr. Comer was the first assessor and collector of the municipality. Georgina was united for municipal purposes with the adjoining Township of North Gwillimbury until 1826.
"After the separation took place, the first town clerk elected was Alexander Craig Lawson, the first, and for some time the only, school teacher in the township, who held the clerkship for many years. The accessible records of the township are very scanty, and but little information is procurable as to the early officials. The first reeve was Charles H. Howard, who held office during the years 1850-51. The position was filled in 1852 by James Bouchier, in 1853 by John Boyd, in 1854-55 by Samuel Park, in 1856 by W. S. Turner. Angus Ego, the present township clerk, succeeded him, and continued in office for the six years 1857-62, and after an interval of one year, during which Archibald Riddell filled the chair, was again chosen for 1864-65. Then Archibald Riddell had a six years term, and was followed by Donald McDonald, who presided over the council for five years consecutively. James Anderson was chosen in 1877, and re-elected in 1878. Mr. Ego was township clerk and treasurer from 1872 until 1877, when John Guben was chosen clerk and George Evans, jun'r, treasurer. In 1878 P. McPherson was clerk. Angus Ego was re-elected township clerk in 1881. The officials for 1884 are as follows : Reeve, J. R. Stevenson, Georgina ; deputy-reeve, Henry Park, Vachell ; councillors, John Kay, Mark Kay and Christopher Raynard ; treasurer, George Evans, jun r ; collector, George Lake ; assessor, Wm. E. Tomlinson ; auditors, Alexander Williams and William Fry.
"In 1842 Georgina contained 586 inhabitants. The population in 1850 had increased to 946. In 1871 the number was 1,987. While most of the townships of this county have decreased in population during the decade 1871-81, Georgina shows an increase of about one-fifth, the number of inhabitants, according to the last census being 2,482. Of these 2,039 are native Canadians. The occupiers of land number 298 ; occupants, who are also proprietors, are 216 in number. The total area in occupation is 29,469 acres, of which 16,938 acres are improved. The portion of this under tillage is 13,109 acres, 3,514 acres being grazing lands, and 315 acres gardens and orchards. The returns of agricultural produce for 1849 gave the following figures in round numbers: 13,000 bushels of wheat, 8.000 bushels of oats, 3,000 bushels of peas, 9,000 bushels of potatoes, and 9,000 bushels of turnips. The Dominion census of 1881 gives the following as the yield of the staple crops: Wheat, 39,467 bushels; barley, 13,769 bushels; oats, 70,261 bushels; peas and beans, 22,426 bushels; potatoes, 25,304 bushels; turnips, 78,583 bushels, and hay 2,196 tons. As closely as can be ascertained, the acreage of agricultural land is distributed among the leading crops in the following proportions: Fall wheat, 10 per cent.; spring wheat, 20 per cent.; barley, 5 per cent.; oats, 8 per cent.; peas, 6 per cent.; potatoes, i per cent.; turnips, 2 per cent.; hay 10 per cent.; pasturage, 30 per cent.; orchard, i per cent. The land yet uncleared, about one-third of the total area, is timbered with hemlock, hardwood, cedar and tamarack. The livestock of the township in 1881 included 1,684 head of cattle, 823 horses, 1,485 sheep and 606 hogs. The varieties most extensively raised are heavy draught horses and ordinary cattle. The quantity of thoroughbred stock raised in the township is small, but increasing. Among those who are owners of Durham cattle may be mentioned John L. Howard and James Baine.
"Sutton, also known as Georgina, the latter being the name of the post office, is the principal village in the township. It was originally called Bouchier s Mills, and owes its origin to the enterprise of Captain James O Brien Bouchier before referred to, who established a flouring mill and factories, and did a great deal in other ways to build up the village as a centre of population. Sutton is located on the Black River, about three miles from Lake Simcoe, and on the western boundary of the township. It has about 700 inhabitants, and is in a flourishing condition. The Church of England and Presbyterian bodies have places of worship here. Smith, the author of Canada : Past, Present arid Future states that in 1851 Sutton contained a grist and saw mill, a carding and fulling mill, a tannery, and a new cloth factory in course of erection. Of these only the saw and flouring mill are now in operation, and no new industries have taken their place. The tendency of our modern manufacturing system is all in the direction of centralization in the larger towns and cities, and the smaller factories which used to build up the country villages are becoming either abandoned or transferred to the great industrial centres.
"Jackson's Point, which lies about a mile and a half to the north of Sutton, is on a picturesquely wooded headland, and is the terminus of the Lake Simcoe Junction Railway. It is a favourite resort for excursion parties, as in addition to the beauties of the scenery it has the attraction of boating and fishing, and there are frequent steamboat trips to Belle Ewart, distant about ten miles, and to other points on the lake. The other villages are Port Bolster, situated, as its name indicates, on the lake, at the extreme north eastern angle of the township; Virginia, about midway between this point and Sutton, a mile or so distant from Lake Simcoe; Pefferlaw, in the eastern portion of the township, about three miles south-west of Port Bolster, and Vachell and Baldwin, in the western part of the township. In the south-eastern corner of the township there are three small lakes connecting with the stream which reaches Lake Simcoe near Port Bolster, and there is also another near Pefferlaw."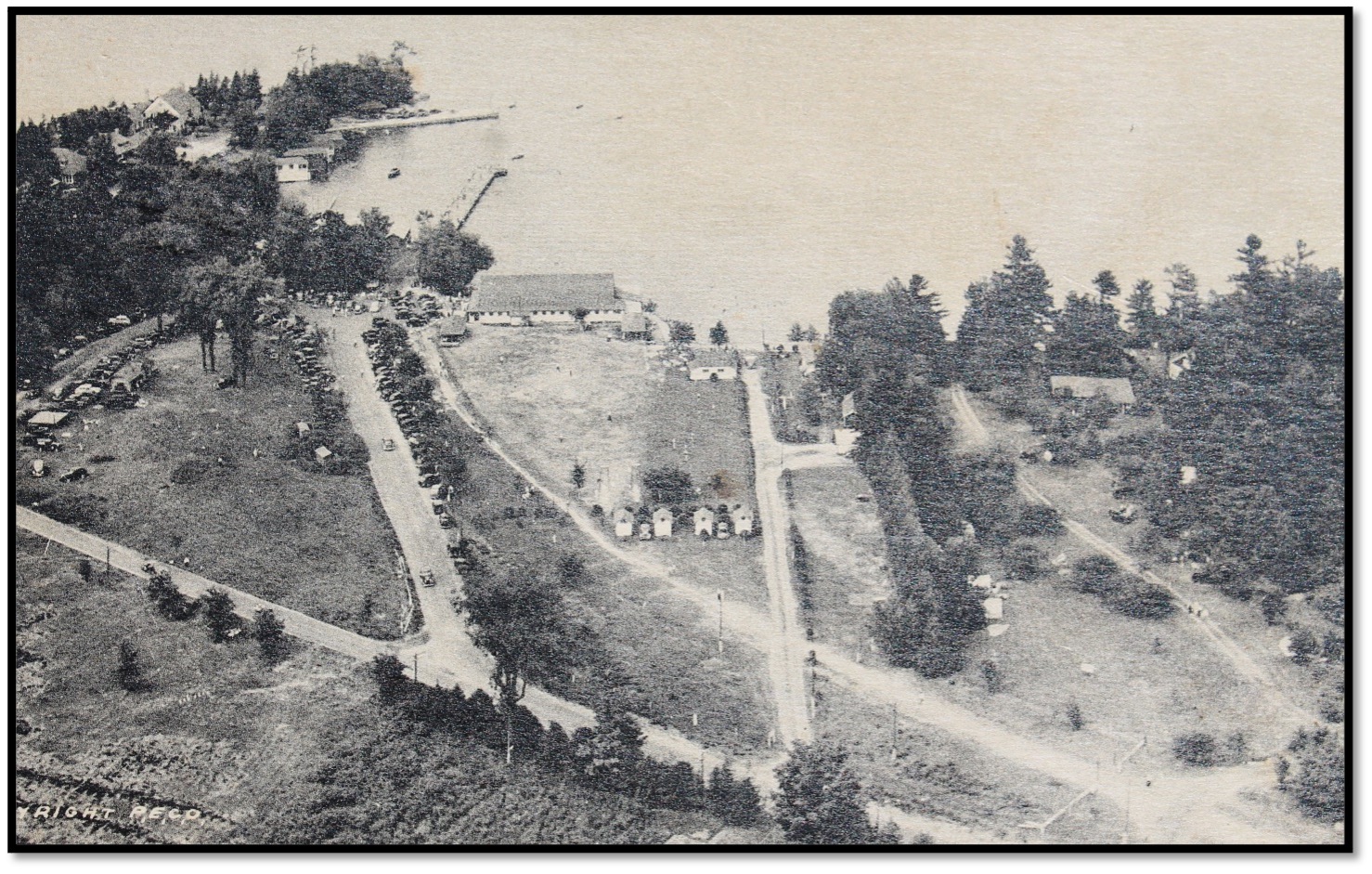 Above is an early aerial photograph of Jackson's Point most likely taken just prior to World War II (judging from the vehicles in the picture); note the old abandoned right of way for the railway leading onto the wharf.  By this time the old Simcoe Ice buildings had disappeared.
Can you identify the location and name of the mystery location to the left? 
We've had no response as yet on this one!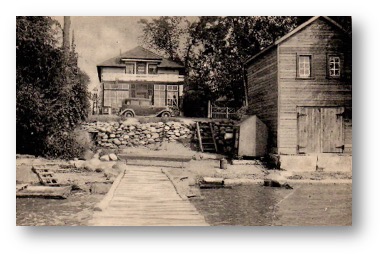 R. M. VAN NORMAN, merchant, Keswick P. O., was born in North Gwillimbury in 1845. His father, David Van Norman, was born near Kingston in 1815, and is still living. His mother s maiden name was Eunice Crittenden, who was born in North Gwillimbury in 1820, and died in 1857. Our subject is one of a family of twelve children, and began life as a farmer. He afterwards established his present business, and was appointed Postmaster of Keswick in 1873. I n 1880 Mr. Van Norman was elected a member of the Township Council, and was Reeve for 1884. He has always taken great interest in matters municipal. He belongs to the Christian Church, and is a Reformer in politics.
*Excerpted from: History of Toronto and County of York, Volume II; C. Blackett Robinson, Publisher 1885, pp. 504.
There's lots happening at the village.  New and exciting programs and workshops are being offered all year long.    Save this link to your desktop and check back regularly for updates. Or follow Georgina Pioneer Village social media channels to keep up to date (on Twitter and Instagram, or 'Like' them on Facebook).   
For educators and clubs, group programming is offered from Sept to May.  Also back by popular demand is the exclusive Rise to Rebellion, a live re-creation of the 1837 Rebellion of Upper Canada annually in May.  When the buildings are closed, the village is always open for a stroll.  Download the self guided tour on your computer or on your mobile device to learn as you stroll.
For more information regarding the above programming or renting the village for meetings, birthday parties, weddings, photo shoots or events, please visit Georgina Pioneer Village & Archives or email curator@georgina.ca  
We've now enjoyed the use of the schoolhouse for a Board meeting and the January and February meetings for the general membership.  As the schoolhouse does not have a kitchen, coffee and tea will not be available.  But, please feel free to "lug a mug" of your preferred refreshment…we'll provide some snacks.  We're looking forward to seeing you.

Events
March 21st – General Meeting; schoolhouse, Georgina Pioneer Village at 7:00 PM
April 3rd – Board Meeting, Noble House, Georgina Pioneer Village at 2:00 PM
September 16th – tentative date set for Harvestfest; more to come later.